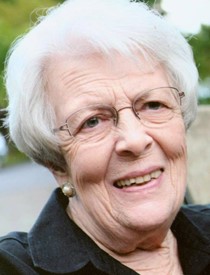 Margaret E. Angelo
6/10/1926 — 1/1/2021
On Friday, Jan. 1, 2021, our dear mom, Margaret Eleanor (Cook) Angelo, peacefully passed away at Royal Plaza in Lewiston, at 94 years of age. Margaret was born June 10, 1926, to S.J. Cook and Alda Henley Cook at Firesteel, S.D.
Affectionately called "Boo" by her mother, she was one of four children, having an older brother, John Allen Cook, and younger twin sisters, Jeanne (Cook) Yocum and Joyce (Cook) Kneisly.
The Cook family moved west to Lewiston in approximately 1929. Margaret graduated from Lewiston High School in 1944, and shortly thereafter moved to Seattle, where she was employed by the telephone company. She returned to Lewiston to see her beloved brother, John Allen, prior to his departure to France as an Army Air Corps pilot serving in World War II. Mom remained in Lewiston, joining the wartime nursing program and attending St. Joseph's Nursing School, where she was named "Cookie" by her classmates. She graduated in 1947 and began her 30-year career as a registered nurse, working at St. Joseph's Hospital, local nursing facilities, and eventually her dream job, working for Dr. Lester Crismon, a Lewiston internal medicine doctor.
She married Joseph J. Angelo on Jan. 17, 1947, at Lewiston. They had two children, daughter Carol and son James "Jim." The marriage unfortunately ended, and Mom was left to raise us on her own.
As a single mom, she selflessly supported us with Sunday and holiday family dinners (which at Thanksgiving included making her beautiful nylon net Christmas trees), playing games, building forts, sledding down the hill by our house and serving homemade cocoa in the basement to warm up all the neighborhood kids. She volunteered in our school classrooms, PTA, science projects, sports, church groups and camps with the First Assembly of God Church of Lewiston. Her greatest joy was seeing our home filled with teenage friends, resulting in being a "Mom" to many. Her heart was enormous, and her natural caregiving skills were shared with family, friends, neighbors and community.
In 2016, Mom moved into the Royal Plaza Assisted Living and spent her last few years surrounded by her family and loving caregivers.
Her parents; brother John Allen Cook; and sister Jeanne Yocum preceded her in death. She is survived by her daughter, Carol Blankinship (Ted); her son, James Angelo (Jill); five grandchildren, Nate Angelo, Jon Taylor, Natalia Angelo, Jil Taylor and Jesse Angelo; eight great-grandchildren; and sister Joyce Kneisly.
We want to extend a special thank you to Betty, Jeslyn, Erika, Iris and Sarah, the TLC crew at Royal Plaza that Mom loved.
We believe that Mom's passing on Jan. 1 was part of her plan, reminding us as we begin this year and every year, to carry her giving spirit forward. There will never be another Margaret Eleanor Angelo. While she is deeply missed, our hearts are filled with love and beautiful memories, keeping her spirit alive in us forever.
We are honored and blessed to have been loved and raised by this amazing woman.
A family gathering will take place at a later date.
Offer Condolences