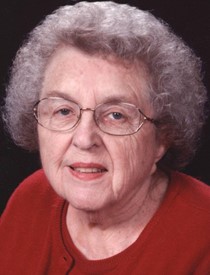 Margaret 'Mardi' E. McIntosh
7/17/1930 — 4/7/2021
Margaret "Mardi" Ellen Williamson McIntosh passed away from age-related causes at Royal Plaza Assisted Living on Wednesday, April 7, 2021, at the age of 90.
She was born July 17, 1930, to George N.M.I. Williamson and Margaret "Midge" Louise Stevens Williamson at the Thornton Hospital in Missoula, Mont. She had a strong Bitterroot heritage of which she was extremely proud.
The family moved to the Lewiston-Clarkston Valley when she was still an infant. Her father, George, worked as a baker and grocer. He built Williamson's Grocery, which has evolved over the years into A&B Foods on Eighth Street. Her siblings were little sister Myrtle Estill Williamson and little brother George "Buzz" Williamson II.
She was baptized and confirmed at the Congregational Presbyterian Federated Church in Lewiston. As a child, she especially loved attending Sunday school and would cry if she missed a single day. She attended elementary at the Lewiston State Normal School, roller skating to and from each day. She graduated from Lewiston High School in 1948 and attended the University of Idaho where she was a member of the Gamma Phi Beta sorority, serving as its president. She received a Bachelor of Science degree in education in 1952. Following graduation, she taught elementary school for several years in Lewiston.
While at the University of Idaho, she would periodically ride-share to and from Lewiston for holidays or occasional weekends with another University of Idaho student from Tammany, Gary McIntosh. They began dating. They were previously acquainted with each other as they both attended the same church. They had in fact been baptized on the same day as children at the same church service. They were married in Lewiston in 1951, and lived in Moscow while Gary completed his veterinary medicine studies at Washington State Veterinary College in Pullman.
After graduation, Mardi and Gary moved back to Lewiston where Mardi helped start McIntosh Veterinary Clinic (now Lewiston Veterinary Clinic) where she worked in the front office, did occasional surgical assisting and cleaned the cages.
From their union, three sons were born, Alexander, Christopher and Daniel McIntosh. She was a devoted mother and grandmother. She was a 4-H mother as well as a club leader for the Orchards Livestock 4-H club. In the 1950s, Mardi served as a faithful volunteer member (as did her father) of the Ground Observers Corp. This was a World War II and Cold War civil defense program of the United States Army and Air Force to protect the homeland against possible air attacks. Local volunteers staffed observation posts in Lewiston nightly, watching the skies for enemy aircraft. Being loyal Montanans, both George and Mardi were convinced for some reason that bombers would be targeting Butte. The Ground Observer Corp was ultimately inactivated on Jan. 31, 1959, at which time Mardi received a letter from Dwight D. Eisenhower thanking her for her service. Butte was saved.
Mardi was a woman of faith and was very involved in local church activities, Sunday school and Vacation Bible School. She also was involved in regional church activities, serving several terms as chairperson of the department of church leadership development for the Presbytery of the Inland Empire of Spokane and Northern Idaho. She also served on the general counsel of Presbytery and on the Synod Christian education committee. She helped Gary start the OWLS (On With Living Seniors) group, a faith-based group for retirees and seniors who traveled and enjoyed each other's company and faith. They traveled all over the United States, Canada and to the Holy Lands. She was a 70-year member of Chapter Q P.E.O. and served as president on several occasions.
Mardi was also an avid bird watcher and enjoyed sewing and needlework immensely. She loved the Oregon Coast, where the family would frequently vacation. She loved musical performances of all kinds, especially by her grandchildren. In later years, she became very interested in genealogy.
Gary died from cancer on May 8, 2014. Just prior to his death, they had moved into Royal Plaza Assisted Living where she resided until her death on April 7, 2021. She is now back with Gary, her family and her Heavenly Father.
She was preceded in death by her parents; sister Myrt; and brother Buzz.
She is survived by sons Alec (Sharon) McIntosh, of Seattle, Chris (Janet) McIntosh, of Moscow, and Daniel (Deborah) McIntosh, of Clarkston; grandchildren Rose, Ira, Brandon, Allie, Robert, Lindsay (Geoff) McIntosh-Ewen and Amy (Joe) Behler; and great-grandchildren Emery and Grayson Ewan and Brodie Behler.
The family would like to thank Dr. Larry Harries, retired, and Dr. Michael Baldeck for their care over the years. We also thank Trinity Lutheran Church in Lewiston for their faith and friendship. A very warm and special thank you to the staff at Royal Plaza and especially to the staff and caregivers of Care Connection. Your love, understanding and compassion over these years will never be forgotten.
Cremation has taken place and a private family memorial service will take place at Normal Hill Cemetery.
Suggestions for memorials are to P.E.O. Continuing Education at P.E.O. Executive Office Treasure's Department, 3700 Grand Ave., Des Moines, IA, 50312.
Offer Condolences