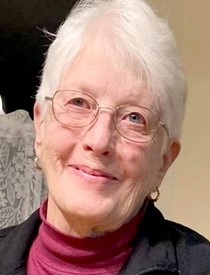 Margaret (Peggy) A. Riggers
12/5/1936 — 1/30/2021
Margaret (Peggy) A. Riggers passed away peacefully Saturday, Jan. 30, 2021, surrounded by her husband and four daughters at Sacred Heart Medical Center in Spokane.
Peggy was born Dec. 5, 1936, in Greeley, Colo., to Walter E. Cary and Pansy R. Forester Cary. She graduated from Weiser High School in 1954 and attended college in Greeley.
In 1956, she married Clifford E. Dunn in Winnemucca, Nev.; he preceded her in death in 1992. On Dec. 26, 1998, she married Donald D. Riggers in Clarkston. They settled in Clarkston and greatly enjoyed their life with each other, rarely being apart.
Peggy raised four daughters, Deby, Lisa, Lori and Dana, and worked for 17 years as a teacher's assistant for the Lewiston School District. She also worked for First Bank for five years prior to retiring in 1999.
Peggy enjoyed camping, back country road trips and the beauty in everything she saw. She was an amazing cook, loved to read, and enjoyed canning and her vegetable garden. But most of all, she loved her family. Family and friends were everything to her. Her favorite quote was, "Being a family means you are a part of something very wonderful. It means you will love and be loved for the rest of your life. NO MATTER WHAT!"
Peggy is survived by her husband, Don Riggers; daughters Deby (Alan) Lutes, Lisa (Dave) Hechtner, Lori (Scott) Smith and Dana Waters (Jerry), and her stepson, Todd (Peggy) Riggers; 12 grandchildren, Karie (Mike) Kehler, Aimee (Mike) Uhlenkott, Jared (Kayla) Lutes, Jamie (Brett) Cawley, Emilee Brunton, Anni (Giuseppe) Annunziata, Betsy Hechtner, Ben (Leah) Hechtner, Erica (Garrett) Benson, Mark Smith, Samantha (Corey) Barnes and Lindsay (Tom) Whipple, and three stepgrandchildren, Kyle (Anna) Riggers, Lyndsey (Jason) Riggers and Dustin (Katie) Combs; 19 great-grandchildren; five stepgreat-grandchildren; and two great-great-grandchildren. Peggy is also survived by two half-sisters, Jenice Douglas and Betty Cary; two half-brothers, Roy Wood and Robert Cary; two sisters-in-law, Norma (Bob) Gushliak and Billy Jo Riggers; two brothers-in-law, Gary (Connie) Riggers and Keith Riggers; as well as many wonderful nieces and nephews that she loved dearly.
Peggy was preceded in death by her parents and several other close family members.
A celebration of life is planned for July 2021. More information will be forthcoming.
She left us with the following: "Life is a journey — I may not have gone where I intended to go, but I think I've ended up where I needed to be."
Offer Condolences