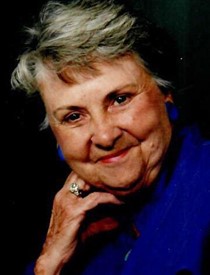 Marlene M. Stellmon
5/17/1933 — 3/9/2020
Marlene May Haag Stellmon, 86, passed away peacefully while surrounded by many family members on Monday, March 9, 2020, in Spokane, from causes related to age.
She was born May 17, 1933, to Victor and Velva Haag, in Lenore. After moving to Lewiston with her family, she attended the Weaskus Grade School and graduated from Lewiston High School in 1951.
While in high school, she met her future husband, William A. "Bill" Stellmon. They married in Lewiston on Dec. 12, 1954. They were sealed in the Salt Lake City Temple of the Church of Jesus Christ of Latter-day Saints on Jan. 3, 1957.
Prior to her marriage, Marlene graduated from the Sacred Heart nursing school. She worked for many years as a nurse, assisting surgeons for Lewiston Orthopedics. She loved her job and the many people she worked with there. Marlene and Bill were very supportive of the Lewiston community, spending many hours in various causes, including the Valley Boys and Girls Club, the Lewiston Roundup Association and the Lewiston Roundup Royalty. Marlene and Bill were also very involved in Lewiston schools and school activities. They are the parents of five children, all of whom graduated from Lewiston High School. The Stellmons lived across the street from the high school, and their home served as a gathering place for her children's many friends and acquaintances. Marlene baked thousands of cookies during those years to provide treats to all of her drop-in visitors. She also prepared numerous kettles of oatmeal and stored many, many textbooks that were left in the corners of her home. Marlene attended hundreds of football, basketball and baseball games in the valley while supporting her children, grandchildren and other youth. She was a life-long supporter of Lewiston High School athletics and Seattle Mariner baseball. Marlene could be frequently seen darting around town in her blue Volkswagen convertible.
As a member of the Church of Jesus Christ of Latter-day Saints, she spent many hours in service to her church. She loved the youth and served in many positions in the church, and also served a full time mission with Bill at Martin's Cove, Wyo. She had many church friends and enjoyed serving and associating with them over the years.
Bill and Marlene always had "room for one more" and frequently had neighbor kids at their table. They also took in many young people who needed a place to stay for a short period of time. Their door was always open to anyone who needed a hand. In 1997, Bill had early onset Alzheimer's. For 12 years, Marlene took care of her husband in their home with faith, patience and endurance, until Bill's passing on Dec. 18, 2010.
Marlene was preceded in death by her husband, Bill; and brother Charles. She is survived by her brother, Rick (Jeannie) Haag of Lewiston; sister-in-law Gail Williams of Clarkston; her children, Jacob (Kelli) Stellmon of Loon Lake , Wash., John (Donna) Stellmon of Eagle, Idaho, William (Cindy) Stellmon of Oceansides Ore., Lisa (Brad) Mangum of Burns, Ore., and Daniel (Melanie ) Stellmon of Clarkston; 24 grandchildren; 64 great-grandchildren; and three great-great-grandchildren.
Marlene's children will hold a private graveside service for Marlene, as a precaution because of COVID-19. A memorial service will be held for her at a later time, at which time there will be an opportunity for grandchildren, extended family, community and church friends to honor Marlene's memory.
The family suggests memorials be sent to the Hon. William A. and Marlene Stellmon Memorial Scholarship Fund at the University of Idaho College of Law in care of the University of Idaho Foundation.
Offer Condolences