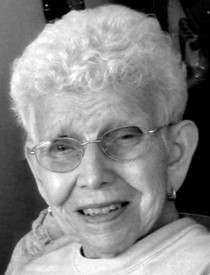 Mary B. Iverson
1/4/1919 — 9/24/2017
Mary B. Iverson passed away Sunday, Sept. 24, 2017, at Wedgewood Terrace in Lewiston, of causes related to age.
She was born Jan. 4, 1919, in Valley, Idaho, to Harleigh and Emma Strong. She graduated from Lewiston High School in 1937.
Mary married Marvin Jensen on Oct. 10, 1937. They divorced in 1950.
She lived in Lewiston most of her life and for many years worked at Holsum Bakery, where she met Aaron Mathis. They were married July 6, 1970. Aaron died June 5, 1976.
Mary married Gilmore Iverson on Nov. 10, 1982. He died March 2, 2012.
Mary enjoyed dancing, crocheting, crafts and doing puzzles in the winter. She also enjoyed working in her yard.
She was preceded in death by her parents; daughter Marlene; sisters Sara Jane Klinger, Dorothy McAmes, Betty Cox, Evelyn Enyeart and Louise Sanford; brothers Raymond Strong and Leonard Strong; great-granddaughter Jennifer Miller; granddaughter Kathy (Jensen) Mingo; and grandson Randy Jensen.
She is survived by her sisters, Janet Gregg and JoAnn Frost, both of Lewiston; son Elvin Jensen (Birdie) of Lewiston; daughter Carol Simmons of Lewiston; granddaughter Cheryl Miller (Norm) of Spokane; grandson Bob Simmons (Dawn) of Aiken, S.C.; great-granddaughter Melissa Roberts (Greg) of North Ogden, Utah; and great-grandsons Aaron, Brandon and Cory, all of Aiken.
At her request, no funeral service will be held. Vassar-Rawls Funeral Home in Lewiston is in charge of handling arrangements.
Offer Condolences