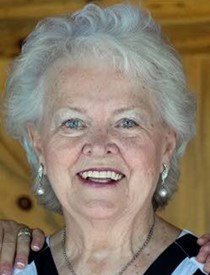 Margaret M. Polek
7/4/1943 — 10/14/2021
Margaret Mary (McCann) Polek, 78, passed away peacefully at her home in Lewiston after a five month battle with cancer on Thursday, Oct. 14, 2021. She was surrounded by her devoted husband, children, grandchildren and pastor.
She was born July 4, 1943, in La Crosse, Wis., one of ten children to Edward and Leone (Berendes) McCann. She grew up on a farm near Wilton, Wis., where her brother remembers that she, at only eight years of age, would ride the horse while it pulled a horse-drawn cultivator. She attended the one-room Slabtown country school in elementary and graduated high school in 1961 in Wilton.
She married Thomas Polek on Jan. 16, 1966, in Milwaukee. Marge and Tom moved with their five children from Wauwatosa, Wis., to Lewiston in 1978. She attended Walla Walla Community College in 1980, for real estate sales training. During the 1980s, she worked in Lewiston at Pay Less Drug, the Wonderbread Thrift Store and the Lewiston Country Club. She was employed on the tissue side of Potlatch Mill for a time during the 1990s. The kids recall helping with Mom's Catering, the home-based catering business Marge started and ran for nine years, serving groups like the Idaho Old Time Fiddlers and the Lewiston Lion's Club. Marge and Tom attended Granite Lake church and she loved hosting a ladies' Bible study at her home. Marge's strong faith in God was an example to her family and friends. When announcing the cancer diagnosis to her family in May, she did so with grace and confidence; assuring all of us that she was at peace with God's timing and that she loved the life she had been given and the people she had been blessed to spend it with. We will greatly miss her wit, laughter and bright, welcoming smile.
Margaret is survived by loving husband, Thomas Polek; siblings, Jay (Donna) McCann of Clarkston, Sue Ann (Tom) Buick of Grand Junction, Colo. and Dennis McCann of Footville, Wis.; her five children, Todd (Amy) Polek of Lewiston, Tracy (Robb) Hart of Lakeland, Fla., Tom (Charlene) Polek of Deary, Tanya (Mike) Owens of Lewiston and Travis (Letha Brown) Polek of Theon, Wash.; grandchildren, Rachael Branchick, Brittany (Josh) Thomsen, Austin Polek, Charae (Lukas) Runyon, Ashley (Michael) Norman, LaShae (Mike) Bane, Brooke (Micah) Glassman, Presley (Brooke) Hart, Hunter Owens, Tory Purlington and Brittany Carr; great-grandchildren, Gracie, Conner, Alexis, Trey, Teagan, Theo, Everhett, Lochlan and Waylon.
Marge was preceded in death by her parents; and brothers McCann, Jack, Gene, Joe, Jerry, Jan and Mike.
Special thanks for the prayer and encouragement from Pastor Bill Hayne and the wonderful help of the hospice nurses.
The funeral service with viewing will be held at 11 a.m. Friday, at Crosspoint Church in Lewiston. Pastor Bill Hayne will officiate. A luncheon will follow. There will be a graveside service afterwards at the Lewis-Clark Memorial Gardens in Lewiston. Vassar-Rawls Funeral Home is handling the arrangements.
Service Information
Date & Time

Friday, October 22, 11:00 AM

Location

CrossPoint Alliance Church
1330 Powers Avenue
Lewiston, Idaho 83501

Get Directions
Offer Condolences