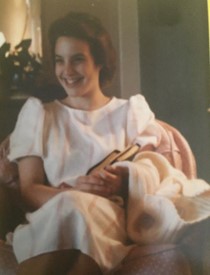 Mary Million
10/1/1969 — 5/31/2020
Service Information
Date & Time

Friday, June 5, 2:00 PM

Additional Details

1:30 pm Viewing-2:00 pm Funeral Service at Vassar-Rawls Funeral Home with light refreshments to follow.
Condolences
Jaynelle Stichler
We are so sorry for the loss of Mary. She was dear to so many. We are grateful for the comfort promised by our Heavenly Father to all that loved her. Ron and Jan Stichler, Escondido, CA
Friday, June 5, 2020 3:13 PM
Sharon Worden
What a shock to learn of Mary's death. We were in touch a good while before the Ukrainian adoption was possible and then were with them when they adopted the children. Mary heard I was in BC on my visit to Canada in 2018/19 and made a special trip to BC to spend a few days with me. That visit was so very special and I treasure the memory. She was so cheerful and her spirit and attitude I found so soft. My heart and sympathy go out to each one in the family. I know you will know of the comfort of Heaven in this hard, hard time. with care, Sharon
Friday, June 5, 2020 1:15 PM
The Drake Family
My condolences to Mary's many friends and family. She was such a ray of sunshine, so spontaneous and a fun loving friend. She navigated this troubled life with such grace, love, and perserverence. Her strength truly was divine. We will miss you deeply. You left us a wonderful example of loving kindness and compassion, thank you Mary. ♥️
Friday, June 5, 2020 10:02 AM
Shona Ferch
We are thinking of you all. Our memories of Mary are ones filled with love and laughter. We will deeply miss her. Much love and sympathy to you. The Ferch Family ~ Loell, Shona, Samantha, and Kailyn (Kiki)
Friday, June 5, 2020 9:36 AM
Linda Eeles
Mary stayed at our house in Canada with a friend that she met in Ukraine years ago. She was a very wonderful lady. We enjoyed her stay here. I love this picture of her holding her Bible. She will be missed by those who knew her and loved her.
Friday, June 5, 2020 9:06 AM
Karen Kessler. ROC Rescue Mission
This is such a loss ! Mary was a great community member who served others with keen sensitivity and compassion.
Thursday, June 4, 2020 4:22 PM
Offer Condolences