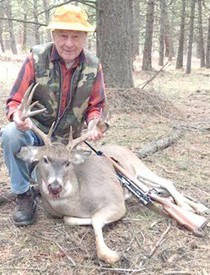 Melvin J. Lewis
5/14/1937 — 5/27/2020
Melvin J. Lewis passed away Wednesday, May 27, 2020, peacefully in his home of 48 years surrounded by his most valued treasures: his children, Anna, Lana, Donna and Todd, and grandchildren. Some say he'll be fishing and hunting in the Buffalo Hump Wilderness area, but something tells us he's in the sunshine (Hawaii) with the love of his life, our mother, Jean (Grandma Jean).
He was a simple man with few rules and was a devout Catholic who was born May 14, 1937. Mel and Jean were married July 2, 1960. After four years in the United States Air Force, Dad accepted a job with Pacific Northwest Bell and retired after 33 years at the age of 56.
"You can shed a tear that he is gone,
Or you can smile because he has lived.
You can close your eyes and pray that he comes back,
Or you can open your eyes and see all that he has left.
Your heart can be empty because you can't see him,
Or you can be full of love that you shared.
You can turn your back on tomorrow and live for yesterday,
Or you can be happy for tomorrow because of yesterday.
You can remember him and only that he is gone,
Or you can cherish his memory and let it live on.
You can cry and close your mind, be empty and turn your back,
Or you can do what he would want, smile and open your eyes, love and go on."
A funeral Mass will be celebrated at 10 a.m. Saturday at All Saints Catholic Church, officiated by Father Nate.
Service Information
Date & Time

Saturday, May 30, 10:00 AM

Location

All Saints Catholic Church
3330 14th Street
Lewiston, ID 83501

Get Directions

Additional Details

Rosary to begin at 9:30 a.m. at the church.
Offer Condolences