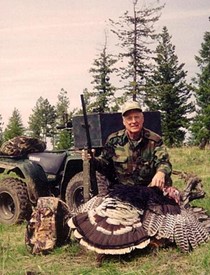 Melvin "Mel" R. Streeter
11/13/1943 — 3/13/2023
Mel Streeter, of Lewiston, passed away peacefully Monday, March 13, 2023, at the age of 79 after a long and courageous battle with Alzheimer's disease, with his wife Lynnette and family by his side.
Mel was born to Cliff and Wanda Streeter on Nov. 13, 1943, in Lewistown, Mont. They lived on the N-Bar Ranch, then moved to Big Fork, Mont., and then on to northern Idaho, where they eventually settled in Potlatch. Mel grew up on the Palouse with his two older brothers and under the watchful eye of his mother, Wanda — especially in third grade, when he had his mom for a teacher. Mel eventually graduated from Potlatch High School and then went on to college at the University of Idaho. Mel majored in psychology and eventually received his Bachelor of Arts in counseling. During his time at University of Idaho, Mel met his future wife, Lynnette Johnson. They were married Jan. 18, 1965 (celebrating their 58th anniversary earlier this year). They would go on to have three children and live in Lewiston the remainder of his life. While working on his master's degree, Mel worked at Lapwai High School as a guidance counselor. He also taught math, coached basketball and drove a bus route through the rural farm community. Many of his former students would retell very memorable bus rides with Mr. Streeter, especially during pheasant season. Mel always remembered his days working at Lapwai very fondly and made many special friends. After attaining his master's degree from the University of Idaho, Mel took a job at Lewis-Clark State College and began a 29-year journey with the college, going from a counselor to Dean of Student Services and then on to the Dean of Vocational Education. Along the way, he earned his doctorate in 1988. Mel's commitment to education and the business community around the vo-tech program was very apparent and he took much pride in seeing it grow and succeed in the Lewiston-Clarkston Valley. Mel retired in 1999, but never sat still for long. He oversaw and did much of the construction of a new house. With his wife, partner and best friend, Lynnette, they became snowbirds, making many trips through the Southwest and Pacific coast camping in their fifth-wheel, hiking through the desert, golfing, crabbing and picking blueberries. They also loved going to see the Mariners in spring training and following the college basketball March Madness tournaments. Mel could scalp tickets with the best of them.
Besides his love for his family, Mel's biggest passion was for the outdoors. To say he was an avid hunter and fisherman is an understatement. Whether he was elk hunting on Cook Mountain, hauling steelhead lunkers out of the Clearwater, chasing big whitetail bucks on Craig Mountain, nailing giant cutthroat trout on the Northfork, or hiking into the Whale Holes to slay some Dollys, Mel was never happier than when he was out there in the wilderness with his friends and family. Another magical place to Mel during his life was at his cabin on Deer Creek. With the help of many great friends and family members, Mel built the cabin overlooking Deer Creek during the '80s. Although, it was never quite done, the cabin stands as a true testament to Mel and his philosophy in life: Never do anything half-heartedly; give it your all, all the time, and do it with gusto. His wife fondly recalls Mel getting home from work and shedding his suit and tie, throwing on a pair of Levi's and Redwing boots and heading up the Waha grade to the cabin to cut firewood and fish for Brookies, sweat on his brow and a smile on his face. Mel is survived by his wife, Lynnette Streeter; daughter, Sherry Rigney (Scott); son, Jeff Streeter (Julie); son, Stacy Streeter; brother, Dale Streeter; brother, William Streeter; grandchildren, Shawn Kirk, Kayla Kirk, Justin Streeter (Riley), Jackson Streeter, Howard Streeter and Trevor Rigney (Haylee); great-grandson, Waylond Rigney; and many cousins, nieces and nephews. He is preceded in death by his father, Clifford Streeter; mother, Wanda Streeter; grandson, Ryan Rigney; brother-in-law Leroy Johnson; brother-in-law Michael Johnson; father-in-law, Earl Johnson; and mother-in-law, Mabel Johnson.
The memorial service will be held at 10 a.m. Wednesday, March 22, at Vassar-Rawls Funeral Home, 920 21st Ave., Lewiston, followed immediately after by a celebration of Mel's life at the Clarkston Event Center, 841 Sixth St., Clarkston.
The family suggests, in lieu of flowers, to make any contributions in Mel's name to the Ryan Rigney Scholarship Foundation, 1455 G Street, Suite 101, Lewiston, ID 83501, or the charity of your choosing.The family would also like to extend a special thanks to Mel's caregiver, Demi Wolde; Hospice nurse, Kim Richards; St. Joseph Family Hospice; and the staff at Generations.
Service Information
Date & Time

Wednesday, March 22, 10:00 AM

Location

Vassar-Rawls Funeral Home
920-21st Avenue
Lewiston, Idaho 83501

Get Directions

Additional Details

The memorial service will be held at 10 a.m. Wednesday, March 22, at Vassar-Rawls Funeral Home, 920 21st Ave., Lewiston, followed immediately after by a celebration of Mel's life at the Clarkston Event Center, 841 Sixth St., Clarkston
Condolences
Rachel Paisano Edwardss
Condolences to the Streeter family. Mel was my Senior Class Advisor, along with Bob Sobotta, at Lapwai High School. Mel and Lynette were our chaperones on our Senior Sneak to Flathead Lake. In 1996, my husband Larry and I won tickets to the NCAA tournament in Denver. In that huge arena, Mel, Lynette and family were seated two rows from us - small world. Mel will always be remembered as a kind and thoughtful gentleman. Prayers.
Wednesday, March 22, 2023 2:06 PM
Offer Condolences