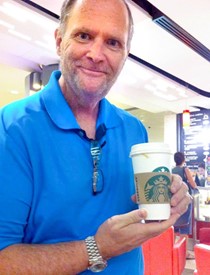 Michael C. Porter
8/11/1956 — 2/5/2021
Michael Charles Porter passed away at the age of 63, Friday, Feb. 5, 2021, at home surrounded by several members of his family.
Mike was born Aug. 11, 1956, to Richard and Jean Porter in Boise. As one of six brothers, life was busy, hectic and fun for someone who loved all sports and activities. The family spent much of their winter months skiing the mountains and much of their summer months at the family's lake cabins at Coeur d'Alene Lake, which remained his favorite place to be throughout his life.
Mike married Mary Jane Booke on Aug. 16, 1986, and they had two children, Kelli Curtis and Michael Porter Jr. His children cannot remember ever seeing their father angry — he was kind, gentle and the most patient man they knew. He loved playing practical jokes on his son (there may have been pantsing involved), inspiring his daughter to learn photography and teaching his kids how to throw a perfect spiral. Road trips to Coeur d'Alene and the Oregon Coast were filled with music that made their eyes roll, like Simon and Garfunkel and the Beach Boys, but somehow his favorites are now their favorites, too.
Mike was an avid golfer. If he wasn't teaching his kids to play or traveling to golf courses like Pebble Beach with his brother, Jack Porter, odds are golf was on TV. He also took special interest in all things history, all things Green Bay Packers and all things Oregon Ducks.
He will certainly be remembered for his grace and composure throughout his illnesses. His doctor had warned that if cancer didn't kill him, the treatment might. And 12 years after beating cancer, that came true. However, despite treatment after treatment, and increasing reliance on medical interventions, he never complained. Yet no medical restrictions would ever take away one of his true loves: a cinnamon dolce latte, extra hot, double-cupped, extra sprinkles (if his kids weren't around to tease).
He was preceded in death by his parents and his youngest brother, Mark Porter. He is survived by his wife, Janey Porter; two children and their spouses Michael and Corinne Porter, Kelli and Matthew Curtis; two grandchildren Theodore and Lillian Curtis; and four brothers and their spouses, Jack and Carol Porter, Rick and Nan Porter, Dave and Carol Porter, Andy and Claudia Porter; as well as many nieces and nephews.
A small ceremony will be held at 2 p.m. Feb. 27 at Lewis-Clark Memorial Gardens, if anyone would like to send flowers or a card. A celebration of life will be held in Coeur d'Alene at a future date.
Service Information
Date & Time

Saturday, February 27, 2:00 PM

Location

Lewis-Clark Memorial Gardens
3521-7th Street
Lewiston, Idaho 83501

Get Directions
Offer Condolences