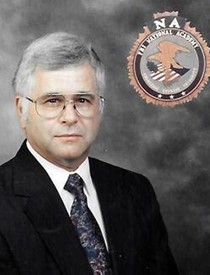 Michael M. Karlin
6/27/1948 — 9/2/2022
Michael Martin Karlin, 74, of Lewiston, was born June 27, 1948, in Sacramento, Calif., and passed away Friday, Sept. 2, 2022, in his home with his wife of 54 years by his side.
Michael began his career at the Medical Lake Police Department. He later retired from the Lewiston and Pullman police departments.
Michael received his master's degree in public administration from the University of Idaho.
Michael enjoyed working in his shop, on his cars and with his horse, as a member of the local sheriff's posse.
Michael was preceded in death by his parents, George and Maureen Karlin.
Michael is survived by his wife, Susan Karlin; his children, Jeffrey Michael Karlin (Holly Karlin), Alicia Powell (Joe Powell) and Kamryn Seidel (Kelsey Seidel); his grandchildren, Mareyna Karlin (Jonathan Preheim), Sarah McClennen, Asher McClennan, Finbar Karlin, Fiona Karlin, Van Michael Karlin, Torin Powell, Emma Seidel, Paisley Seidel and Chesney Seidel; and his siblings, Noreen Bechard (Paul Bechard), Mary Breeden (Jerry Breeden) and George Karlin (Kathy).
You were a wonderful husband, father, grandfather, brother and friend. We love you always.
In lieu of flowers, the family asks that donations be made to Christmas Angels, P.O. Box 2081, Lewiston, ID 83501, or online at christmasangels.org.
The service will be held at 11 a.m. Friday, Sept. 9, at All Saints Catholic Church, 3330 14th St., Lewiston.
Vassar-Rawls Funeral Home of Lewiston, is in charge of arrangements.
Service Information
Date & Time

Friday, September 9, 11:00 AM

Location

All Saints Catholic Church
3330 14th Street
Lewiston, ID 83501

Get Directions
Condolences
Beverly (Nuxoll) Burkhalter
I had the good fortune of having Mike as my supervisor when I took the job of Community Service Officer at Lewiston PD back in the late 1980's. I will always remember Mike's guidance, heart and wonderful nature in helping others. He made the police department and community a better place because he was in it. Godspeed, Sergeant Karlin.
Thursday, September 8, 2022 1:51 PM
Offer Condolences