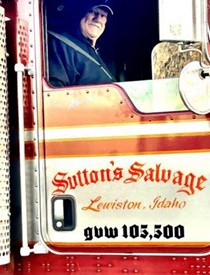 Michael Raspone, Jr.
10/4/1940 — 12/30/2022
Michael Raspone Jr., 82, of Lewiston, was born Oct. 4, 1940, and passed away Dec. 30, 2022, at his Lewiston home.
He was born to Michael Raspone and Theresa Raspone (Greco) and was the second youngest of six children: John, Paul, Gracie, Angie Heuett and Joseph Raspone.
Mike worked for Potlatch Corp. as a laborer in the sawmill from 1965 to 2000, when he retired. He had a love for NASCAR, Elvis Presley, loud rock 'n' roll music, Italian food (especially Tomato Bros) and hot rods and classic cars. On any given day, he could be found driving around town with American flags hanging out the back windows of his Chevy pickup or at the Lewiston Community Center where he enjoyed having lunch and socializing with friends.
One of Mike's greatest joys was animals. He loved animals of all sorts and once drove all the way to Newport, Ore., just to see Free Willy. He had two poodles in his lifetime, Moose and Sissy, and he loved and cherished his dogs, still speaking about them frequently even long after they were gone. Throughout the entirety of his life, he was an honorary employee at Sutton Salvage, where he could be found sitting in a chair, holding down the fort. Especially in his retirement, Mike spent countless hours there playing with the dogs, talking politics, providing his opinion and eating the snacks.
Mike was preceded in death by his parents, Michael and Theresa; his brothers John and Paul; and his sister Gracie. He is survived by his sister Angie Heuett and his brother Joseph Raspone. Mike had a big personality and a big presence, and he will be greatly missed by those who loved him.
Offer Condolences