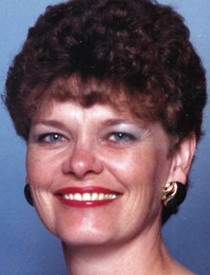 Molly M. Baker
1/5/1950 — 12/20/2016
Molly Baker, 66, passed away Tuesday, Dec. 20, 2016, at Golden Girls Residential Care after a courageous battle with cancer. Her husband Bob, son Anthony Hamel and long-time family friends Bob Murray and Jake Smith were at her bedside to comfort her around the clock in her final days.
Molly Margaret Meek was born Jan. 5, 1950, in Glendive, Mont., to William "Billy" and Florence Meek. She had three older sisters: Rosalee, Kathleen and Linda. She was baptized Methodist at the age of 2.
She grew up in eastern Montana and attended school in Wibaux and Bozeman, Mont. Molly was shy and always aware and considerate of other people's feelings.
Molly married Dennis Hamel in Bozeman on April 25, 1969. Their son, Anthony D. Hamel, was born March 12, 1975, in Missoula. They divorced in 1976. Molly worked in retail in her early years, including co-ownership of Rings and Things, a small jewelry shop in Missoula.
On Dec. 7, 1976, she met Robert Baker at a dance. Their relationship blossomed, and they married June 13, 1980. They soon moved to Clarkston, where Molly became a stay-at-home mom while Anthony was in school. She had a good sense of humor, and laughter filled their lives for 36 years.
While maintaining a warm, meticulous home and cooking wonderful meals for the family, she found time to perform service work for various organizations, including being a hospice volunteer for 10 years. Molly enjoyed cooking and hosted many grand dinners for family and friends in her home. She also enjoyed growing roses, camping and playing cards with her many friends. With patience and determination, she became an accomplished watercolor artist, as the many pictures adorning her home will attest. In the spring, she often collected pieces of driftwood that had a flat, smooth surface and painted an original scene on them.
Molly considered her two greatest accomplishments to be her son Anthony and completing 35 years of continuous sobriety. But her influence was greater than that, as attested by the following letter from her granddaughter, Kelly Becker of Corvallis, Ore.:
Dear Molly,
I recently come across a quote that said, "Feeling gratitude and not expressing it is wrapping a present and not giving it." So I would like to share with you my gift, but really it's the gift you have given me and given everyone around you.
You are a beautiful person and you live your life with a steady perspective and wisdom that has inspired me. Getting to know you, especially as an adult, has been one of my greatest pleasures. You likely do not realize how much the stories of your own life, your outlook and your advice have impacted my own development as an adult.
You have shown me the beauty of an open mind to all people and what it is like to serve people in challenging times in their lives. Not only this, but you have done it in usual Molly fashion quietly, without boasting your virtuous nature. You are you. And you do what you do because it makes you happy and it's the right thing to do.
So thank you for being you. I will carry your wisdom in life with me and continue to share it with the world.
Love, Kelly
Molly was preceded in death by her parents and sisters Kathleen (Richard) Barthel and Rosalee (Jim) Bidwell. She is survived by her husband, Bob; son Anthony Hamel of Clarkston; sister Linda (Jim) Cik; stepdaughters Robin (Darrel) Pewtress of Boise and Patti Baker of Newberg, Ore.; three grandchildren; and seven great-grandchildren.
A memorial service will be held for her at 3 p.m. Jan. 14 at the Quality Inn in Clarkston. In lieu of flowers, donations may be made to St. Joseph Hospital Hospice in Lewiston or the Clarkston Community Center in Clarkston.
Service Information
Date & Time

Saturday, January 14, 3:00 PM

Location

Quality Inn & Suites Conference Center
700 Port Drive
Clarkston, Washington 99403

Get Directions
Offer Condolences