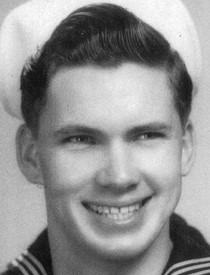 Nels N. 'Ole' Olson
1/25/1925 — 9/19/2017
Nels Nicholas "Ole" Olson , 92, passed quietly in his sleep Tuesday, Sept. 19, 2017, at the Idaho State Veterans Home in Lewiston. His loving daughters, Shelley Sue Olson and Joyce Marie Stuber, were by his side.
Ole was born on Jan. 25, 1925, in Little Falls, Minn., to Hans Oly Olson and Alice Katy (Asmussen) Olson. His father died six weeks after Ole's birth. He and his older brother, Bill, spent their childhood living in Little Falls and St. Maries during the Great Depression. Ole's mother remarried, staying in Minnesota to raise the family of 12 siblings, but his fond memories of St. Maries caused Ole to return to the Northwest as an adult.
Ole took pride in his contribution to the Civilian Conservation Corps as a teenager, and his service as an electrician's mate in the United States Navy during World War II. Ole was injured during the war and honorably discharged on the day that Hiroshima was bombed.
After his naval service, Ole settled in Illinois, where he married Betty Fletcher. That union didn't last, but produced two children, Judy and Mark. Ole later married Jeanette Hill of Clarkston. That marriage, which later ended in divorce, produced two daughters, Shelley and Joyce.
Ole loved northern Idaho. A born salesman, he spent most of his career selling cars and furniture in the Northwest, and finally settled in Coeur d'Alene, where he lived for more than 30 years with his companion, Darlene Atwood. He was fond of home gardening, camping and fishing. He was an avid dancer, and was well known at the Eagles Lodges in Coeur d'Alene, Hayden Lake and Clarkston.
Ole was a true patriot, and loved the camaraderie of membership in numerous service organizations, including the Veterans of Foreign Wars, Elks and Eagles. He was a continuous member of the American Legion for more than 70 years, rising through the ranks to be the post commander and district commander while a member of Post No. 41 in Colfax.
Ole is survived by his daughters, Judy Connolly of Shoreline, Wash., Shelley Olson of Wallace, Idaho and Joyce (Ken) Stuber of Astoria, Ore.; his son, Mark (Arlene) Connolly of Grand Junction, Colo.; numerous grand and great-grandchildren; siblings Harley (Linda) Holden, Marilyn (Harold) Edwards, Joyce (Dick) Inkman, Patricia (Bill) Bandimere and Beverly (Ray) Gossen.
Preceding him in death in addition to his parents were brothers Bill Olson, Jim Seelen and John Seelen; as well as sisters Delda Poland, Phyllis Hoskins and Shirley Stutzman.
Memorial contributions in Ole's honor are suggested to any of the following: Hayden Lake Eagles Aerie No. 4080, at 1520 W. Wyoming Ave., Hayden, ID 83835, (208) 772-4901; Clarkston Eagles Aerie No. 3936, at 505 Maple St., Clarkston, WA 99403, (509) 758-1217; or your local chapter of the American Legion.
A memorial service will be held at 1 p.m. Thursday, Sept. 28, at Vassar-Rawls Funeral Home, 920 21st Ave., Lewiston. Family and friends are welcome to gather afterward at the Clarkston Eagles, 505 Maple St., Clarkston.
A graveside service will be held at 11 a.m. Friday, Sept. 29, at Woodlawn Cemetery, 17599 State Hwy 5, St. Maries. Family and friends are welcome to gather afterward at the St. Maries Eagles at 707 Main Ave.
Service Information
Date & Time

Thursday, September 28, 1:00 PM

Location

Vassar-Rawls Funeral Home
920-21st Avenue
Lewiston, Idaho 83501

Get Directions

Additional Details

Graveside will take place Friday at 11:00 a.m. at Woodlawn Cemetery in St. Maries, Idaho.
Offer Condolences