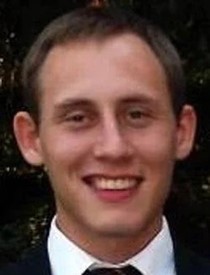 Nicholas L. Chesnut
11/26/1991 — 3/5/2022
Nicholas Lee Chesnut passed into eternal rest in Lewiston Saturday, March 5, 2022, at the age of 30.
Nick was born Nov. 26, 1991, in Spokane to Brian Chesnut and Kitti Hughes. He attended Lewiston primary schools and graduated in 2010 from Lewiston Senior High School. Throughout his youth, he was involved in Boy Scouts, DECA, track and cross country. Nick attended The University of Idaho and belonged to the Sigma Nu fraternity.
Nick knew and loved the Lord. He attended River City Church (formerly New Bridges) since 2006. He was involved with the men's group and spent much time in prayer.
Nick was well known for his heart of gold and had a smile that covered his face. He willingly shared his gifts and many talents with friends and strangers alike. He was always happy to help with any repair or project. His favorite activities were outdoors, including boating, hunting and fishing. He was creative, willing to learn and try new things. He did not give up easily. He was loyal, honest and generous.
Nick married Roni Louise Zimmerman on Sept. 6, 2014. Together they share three young children. He was very active in their lives and enjoyed his hobbies with his family. His children became his biggest source of pride. He loved his wife and family beyond words. Nick's family and friends will miss him dearly. He was loved by many.
Nick is preceded in death by his grandfather Gary Lee Chesnut.
Nick is survived by his wife, Roni Chesnut; his children Walter, Harper and Roscoe; his parents, Brian (Cheri) Chesnut and Kitti Hughes; grandmother Lois Chesnut; siblings Andrea (Andy) Browne, Christopher (Taylor) Chesnut, Kenneth Chesnut, Maria Chesnut and Ty Oliver.
A service honoring Nick's life will be held at 11 a.m. Friday at River City Church, 2102 8th St., Lewiston.
In lieu of flowers, gifts may be made to givesendgo.com/nickchesnutfamily. All funds will be placed in a trust for his children.
Offer Condolences