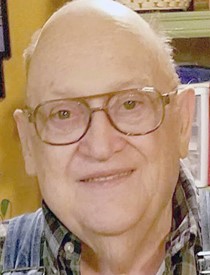 O. Don Evans
7/15/1933 — 2/25/2020
Orin Donald "Don" Evans, 86, of Clarkston, passed away peacefully Tuesday, Feb. 25, 2020, at St. Joseph Regional Medical Center in Lewiston, surrounded by his family.
Don was born July 15, 1933, to Orin C. Evans and Ruby Hollingsworth, at White's Hospital in Lewiston. He was a hard worker all his life. His first job, at 9 years old, was setting pins at the local bowling alley. He also shined shoes, worked at a donut shop, delivered papers and worked summers at the family ranch at Gifford. Some of his fondest childhood memories were of working with his dad at Spangler's Bakery. Don was in the Idaho National Guard for nine years and worked at Potlatch Forest Inc., starting in 1952 and retiring in 1995.
He met Laura Rose Anderson when they were juniors in high school — he a Lewiston Bengal and she a rival Clarkston Bantam. They graduated in 1952 and were married April 25, 1953, at Holy Family Church in Clarkston. Laura proudly turned the Bengal into a Bantam.
An only child, Don always wanted a big family. As he later recounted, five boys so he could form his own basketball team. Over the next 16 years, they welcomed sons Russ, Mark, Chris, Darren and Jason. His dream team was complete. Don was the epitome of the family man. He was extremely proud that all five sons and two grandsons achieved the rank of Eagle Scout in the Boy Scouts. He coached Little League for many years and made a lasting impression on the players, who he respected and referred to as "men."
Don's favorite pastime was camping and fishing with his family. Some of his fondest memories were from summers at the family trailer at Badger Lake. The boys remember Don's ability to yodel, especially when the fish were biting. He also loved working in his shop, fixing and building things with his massive tool collection. Don's CB handle was Wheeler Dealer because he was always buying, selling and trading vehicles.
First and foremost, Don was a loving husband of nearly 67 years — he and Laura did everything together. Earlier in retirement, they camped and traveled. Later, they went to yard sales, where his favorite find was a baseball cap to add to his collection that numbers in the hundreds.
Don is survived by wife Laura; sons Russ (Christy), of Clarkston, Chris (Janet), of Clarkston, Darren (Rita), of Eagle River, Alaska, and Jason (Lusha), of Clarkston; 12 grandchildren; and 16 great-grandchildren. He was preceded in death by son Mark.
Cremation has taken place and burial will be at a later date.
Offer Condolences