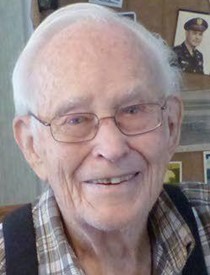 Orland F. Gage
10/1/1918 — 1/31/2019
Orland Francis Gage began his journey to God on Thursday, Jan. 31, 2019.
Orland was born Oct. 1, 1918, in Mapleton, Iowa, the oldest of the 10 children of Ora and Florence Gage. The family moved to Idaho in 1934 and farmed at Hatter Creek near Princeton. Orland graduated from Potlatch High School in 1939 and married his high school sweetheart, Eileen (Nolan) Gage, in 1941.
He joined the U.S. Army Air Corps during World War II and served in the Pacific in 1944-45 with the 38th Bomb Group as a tail gunner in a B-25. After returning from the war, he joined the 148th Field Artillery National Guard Unit in Lewiston and served during the Korean War. He retired as a major in 1979 from the National Guard. He started working for Potlatch Forests Inc. in Lewiston in 1942, retiring as supervisor of the Lewiston plywood/plystrand plant in 1979.
Orland was preceded in death by his parents and five younger brothers and sisters. He lost his son, Mike, in 1969, and wife Eileen in 1980. He married Phyllis Saxton in 1981 and lost her in 1982.
In 1983, Orland and his companion, Flora Jones, became "snowbirds," traveling south every winter for the sunny climates of Mesa, Ariz., and Twentynine Palms, Calif. Other travels took them to Korea, Hawaii, Washington, D.C. and a cruise through the Panama Canal. Together they shared a love for fishing, camping, golfing and gardening.
Orland managed the website for the 38th Bomb Group, "The Sunsetters," for many years and was proud to co-author and help publish a book about the experiences of his group in the Pacific.
He is survived by Flora Jones and her children, Ron Jones, Mike Jones, Eddie Jones and Shelly Johnson, who lovingly call him "Pops." Orland also is survived by his daughter, Patti Borjesson, of Lewiston; his grandchildren, Susan Newman, Bror Borjesson, Brett Borjesson and Andrea Forrest; and eight great-grandchildren. In addition, he leaves behind Duane Saxton, his wife, Eadie, and their family. His siblings, Elaine Larue, Pauline Becker, Byron Gage and Duane Gage, will miss their big brother.
Orland had a life filled with a loving family, good friends and good times. We will miss his smile.
His memorial celebration will take place at 1 p.m. Thursday at Vassar-Rawls Funeral Home.
Service Information
Date & Time

Thursday, February 7, 1:00 AM

Additional Details

His memorial celebration will take place at 1 p.m. Thursday at Vassar-Rawls Funeral Home.
Offer Condolences