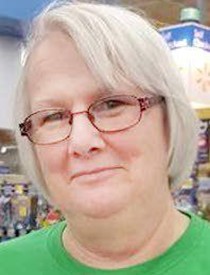 Pam S. Williams
12/9/1958 — 10/30/2019
Pam Conner Williams loved her family, her friends and her animals with all her heart and was generous beyond measure. Pam valued friendship above money and material things. If a friend asked for money, she'd give her last $5 without a thought as to how she was going to make it until payday. If she didn't seem to focus too much on saving for the future, it was because she lived life in the present.
As tough as she talked, Pam was very sensitive. Pam's sensitivity was because of her incredibly huge heart. It's very difficult to have such a big heart because big hearts hold a lot of love, and love makes a person vulnerable, sensitive and easily hurt. Pam's big, soft heart may have been her biggest weakness, but it was without a doubt her greatest strength as well.
In addition to the many cats and dogs she cherished, she absolutely loved her horses. Pam shared a special, mutual respect and understanding with horses. She was born Dec. 9, 1958, in Lewiston and, as a child, one of her best friends was a pony named Penny. She even led Penny into Nola's immaculate kitchen once for pancakes. Suzy and McKeever were her partners in the Lewis-Clark horse shows in the '70s and helped Pam obtain the titles of Lewiston Roundup senior princess and NIJQHA queen.
After graduating from Lewiston High School in 1977, she couldn't bear to leave her horses behind to go to college. She took Jenny the mule and her gelding, Buckshot, to Ricks College in Rexburg (now Brigham Young University-Idaho) to study horses. While down in that corner of the state, she met a cowboy. She and that cowboy married young, found themselves unequally yoked, and soon parted ways on the trail, but not before she scored two beautiful little girls in the deal.
If Pam had a spirit animal, it was most likely a mule. Mules are notorious for being ornery, stubborn creatures who, if mishandled, may deliver one helluva bite or even a lethal kick. A "mule" himself, that may explain why her dad, Jay, had such a special fondness for Pam. Ever hear a mule laugh? If not, you're missing out. Why a mule, you ask? Why not a horse? Because a mule can endure conditions that would break a horse. Mules are known for their honesty, strength and endurance. What humans often misconstrue as stubbornness is actually the mule's innate sense of self-preservation. God, in his infinite wisdom, knew the challenges that lay ahead in Pam's life, so, like the traits of a mule, he gave her some amazing gifts to help her deal with those challenges.
Pam was bluntly honest. People knew where they stood with her. Pam was strong. She was one of the hardest workers you'd ever meet, all while raising two little girls on her own.
She was in the original Lewiston Walmart hiring pool in the summer of 1993 and worked for Walmart for 26 years until her failing health forced her to take a medical leave of absence. You can make all the Walmart jokes you want — Pam sure did — but Walmart provided more than a paycheck and an endless supply of jokes for Pam. It provided her another family, lifelong friends and an entire social network.
Pam endured. She dealt with hardship and heartache with an I-can-do-it-all-by-myself attitude. She fought cancer for seven years, enduring multiple surgeries, chemo treatments, nausea, fatigue, hair loss and all the unpleasant side effects of cancer treatment. Pam didn't waste time feeling sorry for herself, and she didn't want pity from others. Except for losing her hair, many people could hardly tell she was battling cancer. Even then, it was hard to tell if it was the side effects of the chemo or just another crazy hairstyle she was trying out.
Pam fought that cancer until the bitter end, and on the afternoon of Wednesday, Oct. 30, 2019, it thought it finally beat her. Pam, worn down but not one to take a loss or let someone else have the last word, pulled cancer's legs out from under it and took it down with her.
By her side throughout that fight was her husband of 26 years, Mike Williams, a mule in his own right whose loyalty, toughness, work ethic and, of course, hardheadedness matched Pam's. Kelli Bloom, her eldest daughter, became Pam's angel in her time of need, taking care of her right to the end. Her younger daughter, Sherri Bloom, supported her, inspired her and pushed her to keep up the fight. In addition to her two daughters, Pam gained three stepchildren through her marriage to Mike. Christy (Chris) Morgan, David Williams and Jennifer (Luke) Parker, as well as several grandchildren. Her grandchildren, 10 in all, were very compelling reasons not to give up or give in. Her dear friends, JoAnne Robinson and Terri Boxleitner, were with her through thick and thin and have the stories to tell about it. Friend and co-grandmother Ada Rudolph was a stable and steady force in the family's lives and deserves much credit for the relationship Pam enjoyed with her grandson.
Although she listened like a typical little sister, Pam truly loved her older sister, Vickie, and her brother-in-law, Ben Weber. Her niece, Stacie Badertscher (Billy Ingram), and nephews, Cory (Marlo) Lorentz and Kevin (Sarah) Lorentz, will always think of their aunt Pam when they smell a horse or laugh at a crude joke, especially if it's about Walmart.
Pam's cousins, Kathi Isaac, Stephen Arave, Spencer Arave, Susan Brewster, Cindy Christensen and especially Helen Woller were more like siblings than cousins. Little Pam is finally old enough to sit at the big table and have a piece of pie with the adults. Her sister and cousins will all be jealous that although Pam may have been one of the baby cousins, she will be the first to have pie in heaven at the big table with Grandma and Grandpa Arave, Grandpa and Grandma Conner, parents Jay and Nola, Uncle Quinn and Aunt Byrle, and sister Linda, whom she never had the chance to get to know.
Special mention goes to her Walmart family, dart friends and her devoted dogs who wouldn't leave her side.
We love you, Pam. You'll be in our hearts always, and the Clarkston Walmart will never be the same. Happy trails to you, until we meet again.
A service in celebration of Pam's life will be held at 10 a.m. Saturday at Vassar-Rawls Funeral Home, 920 21st Ave., Lewiston. Please come and celebrate her life with us. Following the service, a dinner provided by Walmart will be at the Lewiston Community Center.
Service Information
Date & Time

Saturday, November 9, 10:00 AM

Location

Vassar-Rawls Funeral Home
920-21st Avenue
Lewiston, Idaho 83501

Get Directions
Offer Condolences