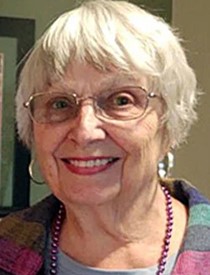 Patricia A. Schaff
7/19/1940 — 7/10/2022
Patricia A. Schaff entered eternal life Sunday, July 10, 2022, just nine days before her 82nd birthday. She was surrounded by her husband and her children. She died from complications following a recent fall.
Patricia Ann Radley was born to James and Veronica Radley, in Yakima. Her childhood and early adult life were spent in Helena, Mont. Jim and Vee divorced when she was young, and she and her three sisters were raised by their mother and aunt, Ann Tuohy.
Pat graduated from Cathedral High School in Helena in 1958. She then enrolled in the nursing program at Carroll College, graduating in 1961 as a Registered Nurse. While completing a clinical rotation, a fellow nursing student introduced her to Donald Schaff. They were married on June 3, 1961, at the Cathedral of St. Helena. They lived in Billings, Mont., until Sept. 1965. They relocated to Lewiston for an employment opportunity and remained lifelong residents.
Pat's nursing career spanned 39 years. She began working at St. Vincent Hospital in Billings. After arriving in Lewiston, she worked at St. Joseph Hospital, before leaving to raise her family. Although no longer working at the hospital, she continued to practice nursing through the care of her family. She tended to many ailments — scraped knees, sore throats, broken bones and dog bites. Once her youngest child was enrolled in school, Pat took a refresher course and returned to the outside workforce. She worked in the offices of Drs. Eugene Baldeck and Wayne Day. She retired in 2000 from Tri-State Memorial Hospital, where she served as the supervisor of day surgery.
Pat's vast array of activities involved serving others. She loved to entertain and was absolutely unrelenting in her hospitality. Her kitchen was truly the center of her home. She was happiest when baking cookies and pies, canning fruit and dilly beans and preparing food for the masses. Friends often asked for a dinner invitation regardless of what was being served. Her homemade goods were legendary and often traded at lunch tables for Oreos and potato chips.
Pat was generous with her time and spent countless hours mentoring youth. She was the Busy Buzzy Bees 4-H Club leader for many years. Hundreds of 4-H projects passed though the family living room before making their way to the Nez Perce County Fair. She taught many young people how to sew, cook, meal-plan and grocery shop. She was adamant that the boys in her group learn to sew on a button and clean the kitchen (their wives are thankful).
During the time her children were in school, Pat volunteered as a homeroom mother, swim team parent and 4-H chaperone. Her ability to be flexible and adaptable proved invaluable. Whether a last-minute school project, a forgotten request for class snacks or the urgent need for a Halloween costume, she could "always come through in the clutch."
Pat and Don traveled the world together. They traveled extensively across the United States, visiting nearly every state. They traveled to Europe several times, including one special trip with her dear friend, Joanne Arnone (Duane) Shears. They took a missionary trip to Africa with Dr. Day and his wife, Vivian. They visited Jamaica, Guam and Mexico. They also took a number of cruises, often in the company of her sisters and their husbands.
Pat was an active member of Our Lady of Lourdes Catholic Church (now All Saints Catholic Church). She participated in multiple aspects of church life over the years. Until recently, she continued her involvement with prayer groups and religious retreats. The family consensus is that she served in almost every capacity — except alter boy, deacon or priest. Her faith was strong and sustained her throughout her life.
Pat's greatest joy was being with people. She and Don raised five successful children with strong family values and a solid work ethic. They opened their home to family and friends. They fostered children and hosted exchange students. They welcomed stray dogs, cats and even a homing pigeon.
She is survived by her husband, Don at their Lewiston home; children, Donna (Randy) Franklin of Lewiston, Denise (Brent) Clovis of Lewiston, Donald (Tammy) Schaff of Boise, Debra Jones (Brent Gill) of Lewiston and Dennis Schaff (Marie Floch) of Clarkston. Additional survivors include her sisters, Nannette Swartz of Portland, Ore., Sharon Mohr of Denver, Colo., and Darlene Enriquez of Laurel, Mont. Her grandchildren are Scott (Jor'den) Chance, Shawn (Lizabeth) Chance, Kennedy (Pete) Maklos, Mayson Schaff and Sage Jones. Her great-grandchildren are Holland Chance, Jeffrey Chance, Jasmine Sphuler and Adelyn Maklos. She was preceded in death by her parents and grandson, Jason Schaff.
The family wishes to express sincere gratitude to Dr. Donald Greggain for the exceptional care he provided for many years (in spite of being fired several times). Special thanks are extended to the staff of Open Arms Home Care for the support that allowed Pat to remain at home. Also, thank you to the nursing staff of St. Joseph Regional Medical Center, Progressive Care Unit, for their care of the entire family during her final days.
Service to be held Friday, Aug. 12, at All Saints Catholic Church, 3300 14th St., in Lewiston, with the rosary at 10:30 a.m., and the Mass at 11 a.m. Reception to follow. In lieu of flowers, donations may be made to the Alzheimer's Foundation or charity of choice.
Service Information
Date & Time

Friday, August 12, 11:00 AM

Location

All Saints Catholic Church
3330 14th Street
Lewiston, ID 83501

Get Directions

Additional Details

Rosary will be held at 10:30 a.m. before Mass.
Condolences
Robert
Hope all is going well love you all
Friday, August 12, 2022 10:52 AM
Offer Condolences