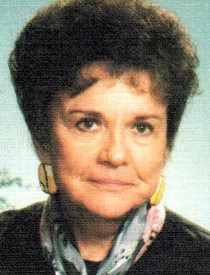 Patricia E. Ponack
6/28/1928 — 7/13/2019
June 22, 1928 – July 13, 2019
Patricia Ponack, 91, beloved wife, mother, grandmother and great-grandmother, passed away peacefully Saturday, July 13, 2019, at Brookdale Senior Living, in Lewiston.
Pat will be remembered by her family and friends for her great sense of humor, her feisty spirit, her beautiful voice and her determination to stay "young at heart."
Pat was born June 22, 1928, in Spokane, where she grew up and graduated from Holy Names Academy. Although she received a full scholarship to Holy Names College, she opted instead for marriage and was wed to Ted Strohmaier of Lind, Wash., July 7, 1946, following graduation. Pat and Ted had two children, Ted Jr. and Marilee, and in 1955 the family moved to Sandpoint, Idaho, where they lived until Ted Sr.'s death in 1965.
On June 4, 1967, Pat married Eli "Bud" Ponack and the couple moved to Lewiston to open Nez Perce County Title Insurance Co. Pat worked alongside Bud in the business and soon opened additional title insurance companies in Clarkston, Coeur d'Alene and Sandpoint. Pat also worked at First Federal Savings & Loan in Lewiston.
After years of retirement, Pat decided at the age of 60 to become a realtor and joined the Tomlinson Black Real Estate Group of Lewiston. Pat earned many awards as a realtor, including the Lewis-Clark Association of Realtors "Spirit Award" and "Realtor of the Year." In 1995, Pat served as the president of the Lewis-Clark Association of Realtors. She was also awarded "Most Inspirational" by Tomlinson Black in 1998.
Pat was known by all for her beautiful singing voice and was a member of the St. James Catholic Church choir for many years. She volunteered with Meals on Wheels and taught English as a second language in Lewiston. Pat and Bud also did philanthropic work in San Carlos, Mexico, where they had a second home.
Pat is survived by her children, Ted (Denice) Strohmaier, of Lewiston, and Marilee (David) Garinger, of Manhattan Beach, Calif. Other survivors include her stepdaughters, Peg Ponack, of Mill Creek, Wash., and Patty (Stan) Medlin, of Post Falls; as well as her five grandchildren and two great-grandchildren, Joe (Kristy) Strohmaier, of Lewiston, Brad (Mampe) Ponack, of Luray, Va., Katherine Strohmaier, of Seattle, Casey Bell, of San Diego, Ryan Bell, of Los Angeles, and Sofia and Eli Ponack, of Luray, Va.
Pat was preceded in death by her husband, Bud Ponack; her parents, Tom and Grace Casey; her brother, Max Casey; and her sister, Cleo Liberty.
A memorial service will be held at St. Stanislaus Church in Lewiston Monday, July 22. A rosary will be recited at 10:30 a.m., with the memorial service at 11 a.m. Burial will follow at Normal Hill Cemetery in Lewiston and a lunch reception will be held at the Red Lion Hotel in the Clearwater Room, following the burial.
In lieu of flowers, memorial contributions may be made to the Lewis Clark Animal Shelter at www.lcshelter.org/donate. Online condolences may be sent to www.vassar-rawls.com.
Service Information
Date & Time

Monday, July 22, 11:00 AM

Location

St. Stanislaus Catholic Church
633-5th Avenue
Lewiston, Idaho 83501

Get Directions

Additional Details

Rosary will be recited at 10:30 a.m.
Condolences
Mike and Evie Naccarato
We offer our condolences and love. Pat was one of a kind and I sure do miss her. A donation to the shelter will be given in her name. What an animal lover she was! We are here at the lake until Labor Day so we won't be there for Monday's service. You will be in our thoughts and prayers 😘🙏😘
Saturday, July 20, 2019 7:50 AM
Offer Condolences