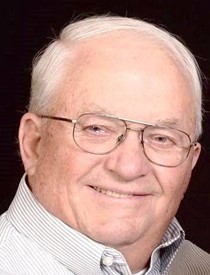 Paul A. Yochum
11/9/1940 — 12/23/2021
Paul A. Yochum, 81, of Lewiston, passed away Thursday, Dec. 23, 2021, at home with his family by his side after a courageous battle with cancer.
Paul was born Nov. 9, 1940, in Lewiston and was the fourth of 10 children born to Raymond and Olive (Jones) Yochum. He was raised on a farm on Cottonwood Creek (Reubens-Gifford Road) and graduated from Lapwai High School in 1959. He enjoyed being active in high school and had fond memories of his involvement in FFA, including raising a champion hog and holding the role of president his senior year.
Paul farmed with his dad and raised his own hogs until 1965, when he went to work for Potlatch Corporation in Lewiston. After working in various production departments, he became a journeyman electrician and retired in 2001. He enjoyed his time at the mill and was proud of his contribution on various safety committees and design teams.
Paul married the love of his life, Connie Gau, of Clarkston, on June 20, 1964. They were the second couple married in the new Holy Family Catholic Church in Clarkston. The priest said they received a sign from heaven when the sun shone down on the couple through the cupola. They were married for 57 years and have four daughters: Janet, Carrie, Paula and Trina.
Paul was a lifelong member of the Catholic Church and belonged to several parishes over the years — most recently, All Saints Parish. His faith was always very important to him and he enjoyed being an active member of the church. At Lapwai, he helped build Sacred Heart Church. He was the first Eucharistic Minister at St. James. He was also a lector, served on the parish board and for a number of years he spearheaded the pit barbecue for the annual Fall Bazaar. Paul was active in Knights of Columbus for many years and held several offices including Grand Knight in 1973 and financial secretary from 1974-78.
Paul's passion was the outdoors. Over the years, he and his family enjoyed boating, fishing, motorcycling, driving ATVs, snow skiing, snowmobiling and camping to no end. It was said he "raised his girls on the Lochsa River." Paul passed on his love of the outdoors to his daughters and grandchildren, who couldn't imagine living life any other way. He shared with his family — and to all who would listen — his extensive geographical and historical knowledge of the forests of north central Idaho. His girls fondly remember the years of traveling in the camper; rolling around on the bed above the cab as dad went around corners and eating candy bars for lunch.
Paul loved his family and cherished all the time spent with his children and their families. Many memories were made in their back yard each summer. Countless hours were spent riding in a trailer behind the lawn mower driven by Grandpa and playing on a huge slip-n-slide created from tarps. He would complain about the damage to the lawn but continued to set it up year after year.
After retirement, Paul and Connie became "snowbirds" for several years and enjoyed traveling around to visit their two girls who had moved away from the area. They also spent a lot of time at their property in Deary, where more great family memories were made: sledding in the winter, four-wheeling in the summer, watching for wildlife and playing in the "fort" tucked back in the trees.
Paul was a jack of all trades and accomplished numerous projects over the years, teaching his girls many lifelong skills along the way. His daughters and grandchildren will always remember him for his ability to fix anything. If there ever was a problem, he surely had the tools and knowledge to solve it.
Paul was preceded in death by his parents, Raymond and Olive Yochum, his brother Edward, and his sister Judy Newman.
He is survived by his wife, Connie; daughters Janet Pinson, of Lewiston, Carrie Bradley, of Henderson, Nev., Paula (Chris) Elskamp, of Clarkston, and Trina (Ryan) Millenheft, of Medford, Ore.; 15 grandchildren, Raquel, Royal Caleb, Leevon, Samantha (Kellen), Elizabeth, Miranda, Matthew, Jacob, Dominic, Natalie, Andrew, Emily, Silas, Owen, Sebastian; and one great-grandchild, Felicity. He is also survived by his brothers Jerry, Greg, Dale, Terry (Marlene) and Chris; sisters Janice Nowoy, Pam (Bill) Rosenau; and numerous cousins, nieces and nephews.
A funeral Mass will be held at 11 a.m. Jan. 4 at All Saints Catholic Church in Lewiston with rosary just before at 10:30 a.m. He has been cremated and will be interred in the columbarium at All Saints Catholic Church. Vassar-Rawls Funeral home is handling the arrangements.
Paul would like to thank the personnel at St. Joseph Regional Medical Center's Cancer Center and Blood Institute in Lewiston for their kind and compassionate care over the last year. In lieu of flowers, the family suggests donations to your local FFA chapters, the Cancer Center and Blood Institute or a charity that is close to your heart.
Service Information
Date & Time

Tuesday, January 4, 11:00 AM

Location

All Saints Catholic Church
3330 14th Street
Lewiston, ID 83501

Get Directions

Additional Details

Rosary will be held at 10:30 a.m.
Offer Condolences