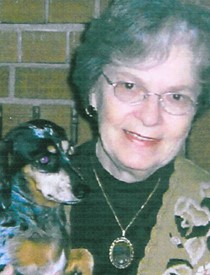 Peggy M. Snyder
9/23/1930 — 8/13/2018
Peggy Mae Snyder, 87, of Lewiston, beloved wife and mother, passed away peacefully Monday, Aug. 13, 2018. Prior to her death, she had been cared for at home by her husband, two daughters and hospice. She was born Sept. 23, 1930, in Spokane to Helen Keeler Martin and York Martin, who died prior to her birth. She married Chuck Snyder in Coeur d'Alene.
Peggy loved teaching children about The Good News of the Gospel in "Good News Clubs" as well as making and performing with puppets in a puppet ministry.
She will be remembered for her infectious smile.
She was preceded in death by her parents; a daughter, Glenna Wilde; sister Dorothy Mattoon; and brother Charles Berreman. She is survived by her loving husband of 26 years, Chuck Snyder; her daughters, Sharon Johnson of Everett, Wash., and Jonna (Chick) Clayton of Nampa; stepchildren Klaus (Andrea) Snyder of Puyallup, Wash., Maggie Snyder of Lewiston, and Eric (Christy) Snyder of Issaquah, Wash.; four grandchildren; eight great-grandchildren; and numerous nieces and nephews.
A memorial service will be held at 11 a.m. Sept. 22 at First Baptist Church, 1326 Chestnut St., Clarkston, with Pastor Randy Olson officiating.
Service Information
Date & Time

Saturday, September 22, 11:00 AM

Location

First Baptist Church
1326 Chestnut Street
Clarkston, Washington 99403

Get Directions
Condolences
PAUL PHIPPS
my heart is heavy for you Chuck Snyder and family.
Prayers for you. God made only on Peggy, she is now in His eternal presence on now knows joy, happiness,and love beyond her faithful knowledge of it this side of Heaven. We love you brother. Paul & Vicky
Wednesday, September 12, 2018 8:18 AM
Offer Condolences