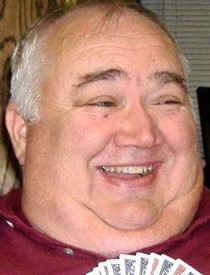 Ralph T. Barnes
3/12/1947 — 10/27/2018
Ralph Thomas Barnes passed away the afternoon of Saturday, Oct. 27, 2018, at age 71, from complications related to diabetes. He was surrounded by his wife, Rhonda, and their six children: Shauna (Mike), Denise, Jason (Erin), Jeremy (Natalie), Jennifer (Adam) and Andrew (BreiAnne). He also is survived by 16 grandkids: Harrison, Kaleb, Leah, Claire, Zack, Carma, Greyson, Eli, Rory, Jill, Norah, Emma, Ava, Addison, Reece, Ryder, with two on the way; and a slew of people he beat at pinochle.
Ralph was born March 12, 1947, in Idaho Falls, and raised in Ririe, Idaho, where he was the only boy of seven children born to Pearl Lucille Winans and Ralph Cleverly Barnes. Since he shared a name with his father, he went by R.T. for much of his young life, and his extended family called him by the nickname exclusively.
He graduated from Bonneville High School in 1965 and went on to study accounting at Brigham Young University, graduating in 1969. Following his college graduation, he enlisted in the U.S. Army as a finance officer, but ended up in the artillery since his pesky recruiting officer was looking to fill a quota. Ralph graduated from Fort Sill Officers Candidate School in 1970, was commissioned a second lieutenant in the field artillery and was discharged in 1972.
Ralph first asked Rhonda Marshall out in 1975 while grocery shopping in Safeway, where she worked. All of his children wish they could have witnessed their father's tremendous wooing skills in action at one of the places he most thrived, the grocery store (the man always knew how to sniff out a good deal). The couple were married Jan. 3, 1976, in the Oakland Temple in California, and with Rhonda's daughter, Shauna, from a previous marriage, they became an insta-family.
Denise was born the following year before Ralph moved his family to Clarkston in 1978 to work as Presnell Gage and Co.'s audit manager. Less than two months after they arrived, Jason was born prematurely in December, and Jeremy followed in 1980. In 1981, Ralph began working for Bruneel Tire as their head accountant, a position he treasured, as he did his friendship with owner Frank.
Jennifer was born in 1982, and Andrew became the baby of the family in 1984. Eventually, Ralph started his own accounting practice, where he would disappear for months at a time over tax season.
Ralph spent countless hours serving in many positions for The Church of Jesus Christ of Latter-day Saints, including counselor in the bishopric, scoutmaster, primary teacher, young men's adviser, financial clerk and stake auditor. He made lasting friendships with many and was always quick to volunteer his (and his children's) time to help anyone in need. His kids routinely complained about spending Saturday mornings cleaning up yards, cutting firewood or helping friends and loved ones move, although they would all agree they're now the better for it.
Ralph loved the scouting program and was awarded the Silver Beaver in 1992, as a scouter of exceptional character who provided distinguished service. In addition, and maybe even more memorably, Ralph went to great lengths to ensure his sons placed in pinewood derbies, purchasing boxes of wheels to test for speed. When a local group decided to have a derby of its own, Ralph was banned from participating because of his extensive winning record; although countless individuals may or may not have consulted with him when making cars of their own for the race.
After all is said and done, Ralph is probably best remembered as an enthusiastic and competitive card player who spent many late nights winning (if you believe him) round after round of pinochle, hearts, spades and Aw Hell with his family and friends.
While he will be dearly missed, Ralph's family believe his love and laughter are too great to be contained and will spill from the heavens, reminding them of his jovial and enduring spirit.
Funeral services will be held at 11 a.m. Friday at The Church of Jesus Christ of Latter-day Saints, 1123 16th Ave., Clarkston. There also will be a viewing at 10 a.m. In lieu of flowers, please send donations to the American Diabetes Association.
Service Information
Date & Time

Friday, November 2, 11:00 AM

Location

The Church of Jesus Christ of Latter Day Saints - Clarkston Chapel
1123-16th Avenue
Clarkston, Washington 99403

Get Directions
Offer Condolences