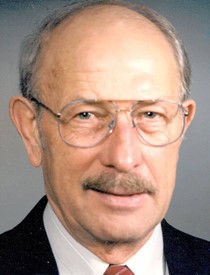 Raymond C. Frei
3/28/1920 — 2/23/2021
Raymond Clarence Frei was born March 28, 1920, the 10th of 15 children born to Clemons Christian and Philomena Uhlorn Frei, in Ferdinand. He passed away Tuesday, Feb. 23, 2021, at his family home in Lewiston.
Ray, or "Old Ray" as he called himself, was a delightful person and had many friends of every age. He was friendly, prayerful and agreeable, and we miss him terribly.
He attended Catholic grade school at St. Maurus in Ferdinand, where he grew up. Then he went to Ferdinand High School where he played basketball, which was a source of pride for him.
Shortly after Ray graduated from high school, the United States was faced with WWII. After the Japanese bombed Pearl Harbor, he enlisted in the Air Force with three other boys from Ferdinand.
Ray came back to Ferdinand after an honorable discharge on Jan. 29, 1945, to take up farming. He farmed until his health no longer allowed it and maintained an active interest in every aspect, working with his nephew, who continues to farm the land.
In the spring of 1977, he met Carolyn Morris at the Woodshed Bar in Winchester. They were married March 12, 1978, and were just shy of 43 years together when he passed. He inherited three children, Richard Morris, Ronald Morris and Ellen McKenzie, plus grandchildren and, in the last few years, great-grandchildren.
Ray and Carolyn traveled a great deal during their marriage. They had many wonderful trips, including Europe for a month. He was able to see his father's house, church and town where he was born in Widnau, Switzerland, on this trip. In 1989, they took their last big trip to Russia.
After retirement, Ray became a craftsman and built a number of miniature buildings from his growing up in Ferdinand. They are rich with detail. He was also a photographer who spent his time taking pictures of large construction jobs in the area. He had an eye for photography and changes in the landscape.
Ray was a beloved husband, father, uncle, brother, grandfather, great-grandfather and community member.
His Catholic faith was of utmost importance to him. He enjoyed a personal, intimate relationship with his Lord Jesus Christ. Because of his faith, he was a happy, grateful and satisfied person who found joy in the little things.
He was preceded in death by his parents, Clemens and Philomena Frei; and every sibling except for Aggie Haener, of Grangeville, and Dorothy Hansen, of Cottonwood.
He is survived by his loving wife of 43 years, Carolyn Frei; children Richard (Pam) Morris, of Ashland, Ore., Ronald Morris, of Casper, Wyo., Ellen (Frank Tooke) McKenzie, of Moscow; numerous nieces and nephews, nine grandchildren; and 13 great-grandchildren.
A graveside service is scheduled for family and friends at the Ferdinand Cemetery at 1 p.m. March 19, 2021, the Feast of St. Joseph. A memorial Mass is planned for later in the summer.
In lieu of flowers, to honor Ray the family suggests donations to All Saints Catholic Grade School, the Idaho Foodbank or Family Promise.
Service Information
Date & Time

Friday, March 19, 1:00 PM

Location

Ferdinand Community Cemetery - St. Maurus Cemetery
Meridian Road
Ferdinand, Idaho 83526

Get Directions
Offer Condolences