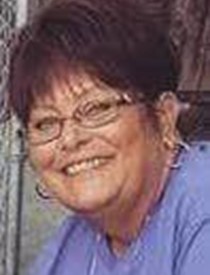 Rebecca J. Tefft
4/19/1954 — 8/4/2019
Rebecca "Becky" Janeen Tefft, 64, of Kendrick, went peacefully to the Lord on Sunday, Aug. 4, 2019, surrounded by her family.
Becky was born April 19, 1954, to Einar and Virginia Tweit, in Valley City, N.D., where she was raised through her elementary years. The family later moved to Moscow, where she graduated from Moscow High School in 1972 and went on to attend beauty school.
Becky married Mike Tefft of Moscow on June 29, 1974. They made their first home there, later moving to Troy, where Becky worked at a beauty salon, Troy Elementary School, and the Troy Market. Mike and Becky later moved to Kendrick in 1988 with their three children: Craig, Matt and Amber. Becky worked for the City of Juliaetta, retiring in 2013.
Becky was an active member in many clubs and organizations throughout her years, such as the Mud Clutcher's Jeep Club, Kendrick Volunteer EMTs, Kendrick Booster Club and Christian Family Fellowship.
Becky was a devoted wife, mother, grandmother, aunt, and a friend to many. Becky's children and grandchildren were the pride and joy of her life. The legacy of her kind spirit, passion for sports and love of family gatherings will live on through them. Her door was always open and her table had a place for everyone. She was lovingly referred to as Mama Tefft and Aunt B by her bonus kids.
She is survived by her husband of 45 years, Mike, who lovingly cared for her during her battle with cancer; her children, Craig (Jenni) Tefft of St. Maries, Matt (Lisa) Tefft of Kendrick, and Amber (Drew) Witt of Kendrick; brother Ron Tweit of Juliaetta; her grandchildren, Hailey, Tori, Kody, Emma, Reece, Raychel, Landon and Harper; and numerous nieces, nephews, and cousins. She was preceded in death by her parents; brother Ernie Tweit; and niece Katie Tweit.
The family would like to extend their heartfelt gratitude to Dr. Francis Spain and his nurse, Heidi Minden; the nurses at Gritman Medical Center; and also to Beacon Cancer Center for their wonderful care and compassion. Becky and the entire family are eternally grateful for the blessings of love and support from the surrounding community in the form of prayers, messages, friendship and meals.
A celebration of life will be held at 10 a.m., Saturday, Aug. 24, at Kendrick High School. A covered-dish dinner will follow the service.
In lieu of flowers, please make donations in Becky's memory to the JK Ambulance or KJ7 Education Foundation.
Service Information
Date & Time

Saturday, August 24, 10:00 AM

Additional Details

A celebration of life will be held at 10 a.m., Saturday, Aug. 24, at Kendrick High School. A covered-dish dinner will follow the service.
Condolences
Gary and sally browning
A sweet and caring person has gone to be with our Lord. Her smile and friendly manner will be missed. No matter where she saw people she always had a smile and kind word. God bless her family and thank God for the memories to help get thru days ahead. Sally and Gary
Friday, August 23, 2019 11:31 AM
Wendy Woerman Ridenour
Becky -- I can still hear her giggle and see her joyful smile. She was kind and a good listener.
Becky was one of eighteen 9th-graders in the Confirmation Class at Emmanuel Lutheran Church. Her faith carried her in life, through her battle with disease, and now into the loving arms of her Lord.
Wednesday, August 14, 2019 12:22 PM
Mary Normington Campbell
Becky was one of a kind - she was sweet
she was funny! The world has lost a lovely lady who was a blessing to those of us who knew her. God bless her husband children and family who were there to support her through her battle with cancer. We know she fought hard - she did what she could and you all know that she loved you more than life itself - my condolences to all of you may you feel her peace in the months years ahead In your lives - Mary
Tuesday, August 13, 2019 8:07 PM
Offer Condolences