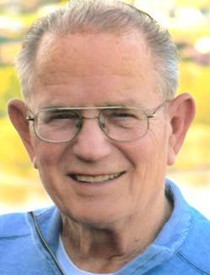 Richard A. Woods, Sr.
2/3/1931 — 4/27/2019
Richard A. Woods Sr. passed away Saturday, April 27, 2019, at Guardian Angel Homes.
Struggling with dementia for 10 years, Rich still maintained his wit and humor to the end. He was born Feb. 3, 1931, to Earle J. Woods Sr. and Florence R. (Anshutz) Woods in Potlatch. He was the fifth of six children. The family moved to Walla Walla, Spokane and then Lewiston. He graduated from Lewiston High School in 1950. In his words, he had a charmed upbringing. He served in the U.S. Navy from 1951-1955. He joined Earle J. Woods and Sons Insurance Agency in 1955, retiring in 1993. He met Marilyn Trautman in the summer of 1955, and they were wed at Holy Family Catholic Church the next spring. Five children soon followed.
Rich enjoyed the fun things in life including his family, friends, NAIA World Series, Gonzaga basketball, Mariners, Seahawks, deep sea fishing, RV camping/huckleberry picking, working on his rentals, sharing his pool with friends and family, summer vacations at Chatcolet's Hidden Lake at Heyburn State Park and walking with his dog, Colonel, twice daily.
Rich and Marilyn are members of All Saints Catholic Parish and charter members of the Crankers Club; surviving is his Crankers Club "family" that he drank coffee with every weekday morning and ate lunch with at the "library" on Saturdays. Rich is a past exalted ruler of the Lewiston Elks and was active in the Rotary Club, planting dogwood trees all over the valley. He was generous with his time and service to family, friends, renters, civic clubs and anyone whom he thought could use help.
He is preceded in death by his sisters and their spouses, Barbara and Bill Penhallegon, Marian and Ray Phillips, and Lois and Bud McConnell, and a son-in-law, Rick Denison.
He is survived by his wife of 63 years, Marilyn Woods; brothers, Jack (Leona) and Chuck (Barbara) Woods; children, Cindy (Steve) Nightingale, Nancy Woods (Jana Simpson), Susan Denison, Joan (Greg) Baune and Rick (Tina) Woods; grandchildren, J.W. (Jen), Shane (Angela) and Eli (Kelsey) Nightingale; Reichen, Riess and Sadie Simpson; Ben (Eva) and Sara Lind; Haley (Nic) Eldridge and Korey Trimmell; Meeka, Saebra, Chezni and Aubrey Woods; and sister-in-law Wanda (Bob) Michael. In addition, there are 11 great-grandchildren and numerous nieces, nephews and cousins.
A funeral Mass to celebrate Rich's life will be held at 10 a.m. Monday, May 6, at All Saints Catholic Church, 3330 14th St., Lewiston.
Memorials may be made to All Saints Catholic School or Idaho Elks Rehab.
Service Information
Date & Time

Monday, May 6, 10:00 AM

Location

All Saints Catholic Church
3330 14th Street
Lewiston, ID 83501

Get Directions
Condolences
Edna Snyder Leachman
My thoughts and prayers are with your family.
Tuesday, April 30, 2019 4:53 PM
Offer Condolences