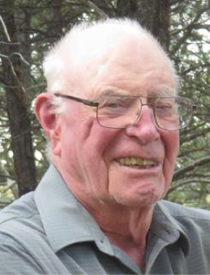 Richard Ohms
6/13/1927 — 12/17/2017
Richard E. Ohms, age 9 0 , died on Sunday, December 17, 2017 surrounded by family in Lewiston, Idaho. He was born on June 13, 1927 in Payette, Idaho to Charles and Anna Ohms. Raised a proper farm boy, Richard "the Lion Hearted" enjoyed fishing and making tools in his uncle's forge. These pursuits reflected his dedication to hard work, which was maintained throughout his lifetime.
Richard went on to graduate from the University of Idaho in 1952 where he earned a B.S. in Agronomy and an M.S. in Plant Pathology. He also earned a PhD in Plant Pathology from the University of Illinois.
Richard also served as a member of the University of Idaho faculty where his research with a team of other scientists freed six breeds of Idaho potatoes from PVX and PVS viruses, revolutionizing the potato industry in the state , and increasing crop yields 20 percent in a year .
He also worked as consultant in potato pathology, production, and processing throughout 22 countries in the Middle East, Europe, and Asia . After retirement, he continued his work as a volunteer consultant worldwide , which increased many countries' abilities to feed their people. For his dedication, he was recognized by Idaho's Governor as "one of Idaho's great ambassadors" and was inducted into University of Idaho's Alumni Hall of Fame in 1998.
He w as a member of the Sigma Chi fraternity at University of Idaho , a 50 year member of the Masonic Blue Lodge , and active in the Calam Shriners based in Lewiston. Through these institutions, he built lifelong friendships and was able to share his spirit of generosity with his community.
Richard married his sweetheart Mavis in June 1956, and their love grew stronger each of the 61 years they had together. Richard is also survived by two sons, Stephen and Douglas ; four grandchildren , Theresia , Stephanie, Shane, and Steven ; and many others whose lives he impacted daily. Ever early for events, he departed to join our Savior and his grandson Mitchel, sooner than any of us had hoped.
The funeral service will be held at 1pm this Thursday, December 21 st in the Episcopal Church of the Nativity in Lewiston, ID with Rev. Mary Ayers officiating the ceremonies. All who knew him are welcome to attend. Any memoriam gifts can be sent to the Calam Shrine Travel Fund at 1122 18th Ave, Lewiston, ID.
Richard was a humble giant among men ; a beloved father, husband, and grandfather ; and was cherished by all in his community. He will be dearly missed, but h e was more precious to God in the end.
Condolences
Jim & Willie Scheel
We agree with obituary. He was a gentle giant. We so enjoyed the many times we were together. We were sorry to hear of the passing. However he left that spirit in his two sons. Sorry we will not be able to attend the funeral.
Wednesday, December 20, 2017 6:36 AM
Jeff Scheel
Mavis, Steve, Doug, and family, I just wanted to let you know how much I thought of Dick as a god father and a person. He was one of the most wise and worldly people I have met, yet ever humble. His absence leaves a hole, but his life set a model by which we can all follow. Please know that you will be in my thoughts and prayers in the coming months.
Wednesday, December 20, 2017 5:57 AM
Offer Condolences