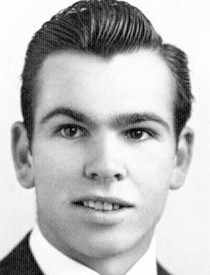 Richard J. "Dick" Derganc
2/18/1929 — 2/18/2021
Richard John Derganc, 92, left us peacefully Friday, Feb. 26, 2021, in Lewiston.
Dick was born Feb. 18, 1929, in Berkeley, Calif., to Anton and Anna Derganc. He was the baby brother to older siblings Edward, Stanley and Dorothy. He and his siblings were first-generation Americans; their father was an immigrant from Austria.
Although he was offered a college scholarship, the lure of reaching the big leagues pulled him in a different direction. Baseball came very naturally for Dad, and, as a left-handed pitcher with unique hands, he quickly caught the attention of the minor leagues. At just 18 years old, he played for the St. Louis Cardinals farm club out of Anaheim, Calif., and then for the Lewiston Broncs. He was a lifetime member of the Association of Professional Baseball Players of America. All through his childhood and into his early baseball career, his father enjoyed flipping homes in the Bay Area. Dad came home one time from spring training and walked into a stranger's house — his family had moved while he was gone and forgot to tell him.
In 1950, Dad was drafted into the U.S. Army and served as a pole lineman until 1952. The Korean War was an experience that he rarely spoke of and seldom reflected upon. He received decorations of the Korean Service Medal with three Bronze Service Stars; the United Nations Service Medal; and the Merit Unit Commendation. Once he returned to the United States, he resumed his baseball career.
When traveling to Lewiston for the first time, he met a young woman named Faye Herman, who was a hostess at the Bollinger Hotel. He returned after that season and began the courtship. Mom and Dad were married on Oct. 16, 1954. They had one daughter, Darce Vassar, and one granddaughter, Katelyn Vassar.
Dick worked as a laborer after his baseball years; once settled in Genesee, he worked at PureGro and spent the later part of his working years for the Genesee School District. In no time at all, he was discovered as a good fit for coaching baseball for Babe Ruth and other minor leagues in town. He really enjoyed those years.
All will remember his warm and steady smile. He rarely knew an enemy and made friends wherever he went. He was very involved with my 4-H projects — if the truth be told, he may have raised all of those hogs. And he did a darn good job with my horse too. Dad never missed one of my ballgames and the same is true for his granddaughter.
He was a fantastic father and a remarkable grandfather. He was fun, adventurous and amazingly creative with his time, making treasured memories.
He is survived by his daughter, Darce Vassar, granddaughter Katelyn Vassar, brother-in-law and sister-in-law George and Bea Herman, sister-in-law Evelyn Derganc, and numerous nieces and nephews from the Long, Herman, Bennett, Fleishman and Derganc families.
Dick was preceded in death by his wife of 59 years, Faye; his parents; siblings Stan, Ed and Dorothy (Rob); his son-in-law, Robert Vassar, and his in-laws, Don and Betty Bennett, Bonnie Long, Lillie Mae and Sim Fleishman.
A memorial graveside service will be held at 11 a.m. Thursday at Mountain View Cemetery in Lewiston. A gathering will follow at the home of Darce Vassar.
In lieu of flowers, donations may be made to Winter Spirit at P.O. Box 1813, Lewiston, ID 83501.
Service Information
Date & Time

Thursday, September 23, 11:00 AM

Location

Lewis-Clark Memorial Gardens
3521-7th Street
Lewiston, Idaho 83501

Get Directions
Offer Condolences