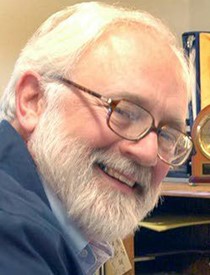 Richard K. Moore
1/17/1941 — 4/21/2019
Dr. Richard Kinney Moore died, surrounded by his devoted family, Easter Sunday afternoon, April 21, 2019, at Life Care Center of Lewiston.
Richard was born Jan. 17, 1941, in Detroit to Richard H. Moore and Geraldine (Kinney) Moore. The Moore family lived in Plymouth, Mich., until World War II was declared. Then, Richard's father, a major in the U.S. Army, was assigned to Fort Bragg, N.C., and the family moved there. When Richard's father was sent to Europe, the family returned to Michigan.
After the war, Richard's father was deployed to Yokohama, Japan, and the family followed him. Richard had many interesting stories about his time as a child in Japan and as an "Army brat" growing up in various places around the country and the world. In 1959, he graduated from Stuttgart American High School in Stuttgart, Germany.
Richard then attended North Carolina State University on a football scholarship. In college, he was a champion for civil rights and attended Martin Luther Kings Jr.'s "I Have a Dream" speech with his brother, Bill. He joined the ROTC while in college and, after graduating with a Bachelor of Arts in history, enlisted in the U.S. Army and was sent to Frankfurt, Germany. While in Frankfurt, he met the love of his life, Johnette LaBrue, who was working in the I.G. Farben building, where he also worked. Because Richard, then a lieutenant, was sent to Vietnam with the 101st Airborne Division, Johnette returned to her home in Fresno, Calif., to wait for him.
After his first tour of duty, Richard went to Fresno, where he and Johnette were married July 22, 1967. He was stationed for a short time in Stockton, Calif., and was then sent to Fort Lee, Va. Johnette followed and in 1969, their beloved son, Jason, was born. But duty called once more, and Richard (now Captain Moore) returned to Vietnam for a second tour. Richard also had many stories about his time in Vietnam but he usually only told the funny ones. After 15 months, he was honorably discharged from the Army with numerous medals, including the Bronze Star.
Richard then enrolled at Fresno State University where, in 1972, he earned a Master of Arts in political science. That summer, the family moved to Tucson, Ariz., where Richard began classes in the doctoral program at the University of Arizona. In 1978, he was awarded a Ph.D. in political science.
In May of that year Richard received a phone call from President Lee Vickers asking him to come to Lewiston to interview for a job teaching political science at Lewis-Clark State College. He was quite impressed with LCSC and accepted the job. During his tenure at LCSC, he completed post-doctoral work at the Middle East Institute at the University of Michigan, the U.S. Congress, the Library of Congress and the National Archives. In 1988, he took a sabbatical and served in the congressional office of Richard Stallings, U.S. House of Representatives, Idaho District 2.
In addition to being an inspired teacher and a generous mentor to many students, Richard proved himself to be an apt administrator. He chaired the Faculty Senate and Faculty Association twice; he chaired the Social Sciences Division from 1986 to 1994; he was acting dean of the School of Arts and Sciences; and, oddly enough, he was for a time the interim chair of Nursing and Health Sciences. He admittedly knew nothing about nursing when he took the job, but he did know how to get everyone on his side, an important part of running any program. In a successful effort to connect LCSC and this community to global, economic, social and cultural factors that impact us, he led the International Exchange Conference — an LCSC signature event during the 1980s and '90s. He taught at LCSC for 27 years, retiring in 2005.
After retirement, it bothered him at times that he was no longer teaching, as he was deeply upset about the way the country was going. He often said, "We have to fight the good fight." But he continued to serve the community when the governor appointed him to the Probation and Parole Board, where he served for several years until ill health forced him to resign. Richard was the recipient of the Aletha Pabst Alumni Award at LCSC for 2018, which pays tribute to someone who is not an alumnus, but has made significant contributions to LCSC. In 2017, LCSC Social Science Division created the Moore Honorary Lecture, honoring Richard for his work as a political science professor at LCSC.
Richard was a longtime member of the Episcopal Church of the Nativity and served on the vestry several times. He also volunteered to act as a "pearl diver" (dishwasher) for the church's monthly dinners for those in need.
Among the things that Richard loved: his wife; his son of whom he was so proud and his three beautiful grandchildren; his students; teaching; learning to fly fish from his patient and dear friend, Dr. Alan Marshall; and daily coffee and conversation with his friends at the coffee klatch.
Richard Moore was preceded in death by his parents, Richard H. and Geraldine Moore; and his brother, William K. Moore. He is survived by his wife, Johnette; son, Jason (Courtney) Moore; grandchildren, Madeleine, Calvin and Greta Moore, all of Tucson, Ariz.; sister, Barbara (Wayne) Burnett of Fredricksburg, Va.; sister-in-law Cynthia Moore of Sierra Vista, Ariz.; brother-in-law, Terry (Linda) LaBrue of Issaquah, Wash.; brother-in-law, Jack (Diane) LaBrue of Salem, Ore.; many nieces and nephews; two special "grandchildren," Siam and Chai Owen; and many dear friends, including his beloved coffee klatch.
Vassar-Rawls Funeral Home is in charge of the funeral arrangements. The time of the memorial service will be set at a later date. The family would like to thank all of those who have offered so much kind support during this difficult time.
Condolences
Jennie Grubb Fiske
To my favorite 6th grade teacher,
I was saddened to see that your beloved Richard passed away. I feel so blessed to have known him and have taken a class from him at LCSC in addition to having you for a teacher. What a wonderful teaching couple you made! I am sorry that I will be out of town and will miss his service. Please know that you and your family are in my prayers. Deepest condolences,
Jennie
Sunday, June 23, 2019 11:07 AM
Brian Fonnesbeck
I knew of Richard for the first 10 years or so of my time at LCSC, but got to know him during and after his time as Dr. Nurse (Division Chair of Nursing). He was a champion of our program and a dear friend. He and Mrs. Moore were fond of and sweet to my daughter, Briana. I will miss interesting conversations and his big heart. Prayers for his family and friends who have to move through life without him, but with great memories of him.
Tuesday, June 4, 2019 12:37 PM
Alan and Delores Schultz
We have just learned of Richard's death and are so saddened. We remember all the happy times we had in Tucson knowing you both, and then Jason and then the grandchildren. We will never forget your wonderful artwork, Johnette. God bless you all and grant you comfort. May Richard's soul rest in peace.
Thursday, May 23, 2019 9:23 AM
Alan and Delores Schultz
We have just learned of Richard's death and are so saddened. We remember all the happy times we had in Tucson knowing you both, and then Jason and then the grandchildren. We will never forget your wonderful artwork, Johnette. God bless you all and grant you comfort. May Richard's soul rest in peace.
Thursday, May 23, 2019 9:20 AM
Lewis-Clark State College
Lewis-Clark State College mourns the loss of one of its own. Dr. Richard Moore's 27-year legacy (1978-2005) at LCSC is nothing short of remarkable and he will be greatly missed. LCSC offers its sincerest condolences to his family, friends, and colleagues.
Thursday, May 9, 2019 12:15 PM
Lee Vickers
Richard Moore was an outstanding professor. His achievements outside the classroom were equally significant, in serving as faculty leader and administrator. Richard's role in helping to establish and lead the International Exchange Conference was a major contribution to the College. With his skill and dedication, the Conference, and hence the College, achieved an enviable degree of recognition throughout the state, indeed, nationally and internationally. Richard has left the College and the world around him a better place. Deanna and I send our condolences to Johnette, Jason and family. We are saddened by his death.
Wednesday, May 8, 2019 4:19 PM
Lynn Guyer
Will attending college LCSC during 1980's I was honored to have taken classes from Dr. Moore. He was an inspiring professor that made learning so easy. My sincerest sympathy to you his family. The world has lost a great man.
Sunday, May 5, 2019 7:02 AM
Offer Condolences