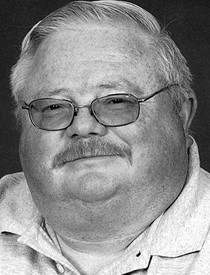 Robert E. Watson
10/11/1946 — 7/28/2017
Robert E. Watson, 70, passed away Friday, July 28, 2017, at Schneidmiller Hospice House in Coeur d'Alene.
Robert was born Oct. 11, 1946, in Lewiston, to Milton L. and Patricia Jean Westfall Watson. He attended Lewiston-area schools and graduated from Lewiston High School.
One of his first jobs was working for the Clearwater-Potlatch Timber Protective Association (CPTPA), fighting forest fires. Later he became employed with Potlatch Forests Inc., and after 34 years working in various positions in the company, he retired.
Always an outdoorsman, fishing, hunting and prospecting for gold filled much of his early years.
Bob gladly accepted his role as older brother in the family and was always there to help in any way that he could. His nieces and nephews recall camping and fishing trips with Uncle Bob.
His easy laughter and kind heart brought him many dear friends whom he enjoyed all his life. Family and friends were his greatest joy. The photos he took over the years testify to many of their shared adventures. These included hunting for mushrooms, planting a garden, picking huckleberries, fishing, camping, raising cattle, cutting firewood, hunting and playing cards.
Bob had a deep faith and was a devoted Catholic. He was a parishioner at St. James Catholic Church and then at All Saints. A longtime member of the Knights of Columbus, he was a third-degree member and enjoyed helping with their many activities and bringing homemade salsa to share at their meetings. Bob also was affiliated with the local Masonic Lodge (Nez Perce Lodge No. 10) and had been a member there for 32 years.
Bob inspired us with his deep faith, generosity, gratitude and determination. Even his battle with cancer for the last year and a half could not take these away. We will love you always, Bob.
He was preceded in death by his parents; and survived by a sister, Connie Williams (Rick); and brothers Steve, Rod (Donna) and Mike (Ellen); as well as many nieces and nephews.
Vassar-Rawls Funeral Home is in charge of arrangements. Viewing will be 10 a.m. to 7 p.m. Friday at Vassar-Rawls. Funeral services are scheduled for 11 a.m. Saturday at All Saints Catholic Church, 3330 14th St., Lewiston. The rosary will be recited at 10:30 a.m., before the service. Burial will follow immediately after at the Normal Hill Cemetery.
In lieu of flowers, donations can be made to the Knights of Columbus or Hospice of North Idaho, 9493 N. Government Way, Hayden, ID 83835, in memory of Robert E. Watson.
Service Information
Date & Time

Saturday, August 5, 11:00 AM

Location

All Saints Catholic Church
3330 14th Street
Lewiston, ID 83501

Get Directions

Additional Details

Burial will follow at Normal Hill Cemetery
Offer Condolences