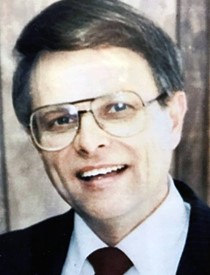 Robert O. Corley II
8/6/1938 — 2/17/2021
Robert Oliphant Corley II was born Aug. 6, 1938, in West Carroll Parish, La. He passed away peacefully Wednesday, Feb. 17, 2021, in Clarkston from congestive heart failure at 82 years of age.
Robert was the second of three children born to Alton Stephens Corley and Louis Eugenia Howell Corley. He is predeceased by his wife, Shirley Mae Richie Corley; father Alton Corley; mother Louise Corley; and sister Delores Rae Corley King. He is survived by a brother, Stephen Lewis Corley, of Shawnee, Okla.; first cousins Fred Flowers, of Houston, Ronald Flowers, of South Carolina, Mary Laeger and Esther Tomkins, of Louisiana. Other family member include 11 nieces and nephews.
Robert graduated in 1960 and 1961 with a Bachelor of Science and Master of Science in physics.
He was a member of the Seventh-day Adventist Church, and married Shirley Richie in November 1970. They spent 41 years together prior to her death in November 2011.
Although he had worked 10 years in very prestigious high tech industries, he felt called to the ministry and chose early on to serve others by becoming a full time minister in the Seventh-day Adventist faith. He received his Bachelor of Arts in religion and the Masters of Divinity degree from Andrews University Seminary. He served as pastor in various different churches around the nation until his retirement.
Family and friends will long remember Robert Corley as an outstanding example of a Christian man. His life preached volumes without saying a word. He had a love for the scriptures and a strong, unshakeable faith in God. His intelligence and quiet confidence seemed to draw people to him. He displayed a kind, gentle attitude toward everyone, and had tremendous respect for all people regardless of social status, ethnicity, or education. He was an outstanding example of honesty, integrity, and Christian principles. But most of all, he will be remembered for one who was willing to follow God's will for his life rather than his own.
A memorial service for Robert will be held at 2 p.m. April 27 in the Clarkston Seventh-day Adventist Church, 2673 13th St., Clarkston.
Service Information
Date & Time

Tuesday, April 27, 2:00 PM

Location

Seventh-Day Adventist Church
2673-13th Street
Clarkston, Washington 99403

Get Directions
Offer Condolences