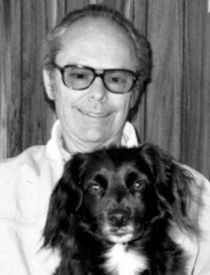 Robert R. Myers
6/29/1926 — 9/17/2017
Robert R. Myers passed away Sunday, Sept. 17, 2017, at the Lewiston Veterans Home at age 91. He was born June 29, 1926, in Gifford, to Marsha and Ray Myers. He was the youngest of three children, with a sister, Betty Jean, and brother Leo.
When Bob was young the family moved to Lewiston, where he attended school and was known to friends as "Bob" or "Bobby Ray." He graduated from Lewiston High School and later attended the University of Idaho, graduating in 1971 with a degree in accounting. He laughed that he wasn't going to give up on passing the certified public accountant exam, and finally succeeded in 1980.
Bob served in the U.S. Navy during World War II and was later called to serve during the Korean conflict. He was proud of his service but always declined to talk about it.
Bob married Betty Jean Morris in 1949 and they had two children, Thomas and Jeanenne. Bob was proud of his children and it was important to him that they get a good education. Bob and Betty Jean later divorced. Bob married Barbara Storey-Geboe in 1988 and accepted her large family as his own.
Bob was involved in many Lewiston civic activities. He was a member of the Lewiston Jaycees, the Masons and the Shriners. He achieved the position of master with the Masons. He always spoke fondly of his memories and time with those organizations. He played trombone in various musical groups. He was an avid reader and constantly had a book in his hand. He was a dog lover and always had at least one dog that he spoiled terribly.
Bob had a long and varied work history:
He tended bar at a Main Street bar called the Golden Spur.
He operated the Lewiston Fur Shop when it was still fashionable to wear fur.
He owned and operated Bob's Laundry.
He was part owner and employee of Dunclick Block Manufacturing, formerly in North Lewiston.
He owned and operated the Lewiston Airport Lounge.
And he worked in his own accounting and tax practice until his retirement in 2014 at age 88. He resisted retirement as long as he could because of how much he enjoyed his clients.
Bob spent many years living in the Anatone area, where he enjoyed the outdoors, the wildlife and maintaining his small acreage. He somehow managed to get up early on many winter mornings, clear the new snow out of his long and steep driveway and make it to work in Lewiston on time just because he enjoyed living there so much.
Bob is survived by his wife, Barbara; son Thomas of Phoenix; daughter Jeanenne of Lewiston; and older sister Betty Jean. He also is survived by stepchildren Deborah, Linda, Elizabeth, Kathy, Jim, Dave, Terry and Dan. He also is survived by his precious dogs, Angel and Charlie.
A memorial service will be held at 11 a.m. Wednesday at Vassar-Rawls Funeral Home, 920 21st Ave., Lewiston.
Service Information
Date & Time

Wednesday, September 27, 11:00 AM

Location

Vassar-Rawls Funeral Home
920-21st Avenue
Lewiston, Idaho 83501

Get Directions
Offer Condolences