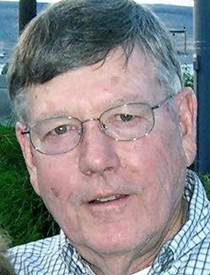 Robert T. Coats
2/28/1936 — 1/16/2019
Robert "Bob" Thomas Coats was born in Boise on Feb. 28, 1936, to Dr. Robert M. and Eleanor Coats. He passed away peacefully Wednesday, Jan. 16, 2019, with his wife by his side. He was diagnosed with stage 4 melanoma at Thanksgiving (2018), and died of cardiac arrest due to melanoma.
Bob attended Boise High School, graduating in 1954. He attended the University of Idaho (he was a lifelong, passionate Vandal) and graduated with a forestry degree in 1959. On June 24, 1962, Bob married Roberta Kay Givens at St. Michael's Episcopal Cathedral in Boise.
Bob worked as a forester for 66 years. He loved the woods. He loved being in the woods, surrounded by the pine trees and nature. Bob started in his career at age 16, working for the U.S. Forest Service in Landmark, Idaho. He worked for the Idaho Department of Lands for 13 years, then took over in 1978 as resource manager for Evergreen Forest Products in New Meadows, Idaho, where he worked for 11 years.
He also worked as resource manager for Guy Bennett Lumber from 1991 to 2001, after which he returned to Evergreen Forest Products for four years. Not having any desire to retire ("What's that?" he would say), he went to work as a forester for NW Management in Moscow, where he worked up until his death. Being a forester was his passion, his hobby and truly his "retirement."
While living in McCall, Bob was extremely active in St. Andrew's Episcopal Church, where for a time when the church was without a full-time pastor he served as lay worship leader for Sunday church services. He was active in the diocese of Idaho, with a special passion for Paradise Point Episcopal Church Camp on Payette Lake. He was an active Lion in McCall, engaged in many service activities to support the Lions Club and the McCall community. For many years he also served on the Payette Lakes Ski Club board of directors, serving as president and ensuring the club remained viable and vibrant. He helped maintain ski hill equipment, and generally volunteered much time to support ski hill operations.
Bob loved spending time with family. When his kids were young, during the winter you would always find him and Roberta at the ski hill, helping organize and lead a ski race. Although his knees would not allow him to ski, he spent more time on the mountain than most. He drove his boys through any weather to get to ski races, and would endure long drives home late at night while his boys slept.
Bob was always there for his boys, no matter what. He was a handyman extraordinaire, and was always there when help on a project was needed. There are far too many projects to mention, but Bob's mark will forever be seen and remembered by his sons.
He is survived by his wife of more than 56 years, Roberta; his sons, Erik (Kristine) of Pullman and Darren (Danielle) of Kuna, Idaho; his brothers, Jim (Bev) of Anchorage, Alaska, and Blake (Chris) of Weiser, Idaho; a new-found cousin, Dr. Michael Coats (Gretchen) of Hayden, Idaho; and his grandsons, Nathan (Seattle) and Cade (Fruitland, Idaho). They all miss him dearly!
Funeral services will be held at 11 a.m. Feb. 2 at the Episcopal Church of the Nativity in Lewiston; a reception will follow. The family suggests memorials be made in Bob's name to the Episcopal Church of the Nativity in Lewiston (731 Eighth St., Lewiston, ID 83501).
Service Information
Date & Time

Saturday, February 2, 11:00 AM

Location

Episcopal Church of the Nativity
731-8th Street
Lewiston, Idaho 83501

Get Directions
Offer Condolences