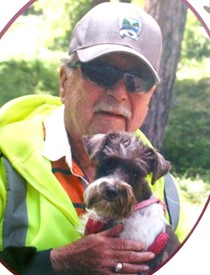 Robert W. McDowell
7/1/1935 — 7/1/2021
Heaven welcomed a cool dude when Robert Whitney McDowell passed away peacefully Thursday, July 1, 2021, at his home with his wife, his three children and their spouses, and a few grandchildren.
He was born June 6, 1935, in Nampa to James Carlos and Beulah Priscilla McDowell. He grew up in Nampa, raised by his father and grandmother, Annie Story. He enlisted in the U.S. Navy at the age of 16. He served for four years on the battleship USS Yorktown during the Korean War.
Robert met Loretta May Wageman in Boise in 1955. They were quick to discover they had met their one and only. They were married March 23, 1956, boasting a marriage of 65 years. They spent the beginning of their marriage in Gooding, Idaho, as farmers.
In 1958, they welcomed Debra Diane, into their family. Shortly after Robert began a new job with Morrisson-Knudson in Boise. In 1959, they celebrated the birth of their second child, Robert Lee, in Boise. Shortly after that, they moved to Los Banos, Calif., to begin a new job. A wonderful surprise happened in 1964 as they greeted their third child, Peggy Anne, who completed their family.
Robert, Loretta, and family returned to the Lewiston-Clarkston Valley in 1969, moving a total of 23 times. Robert had seven grandchildren and seven great-grandchildren. His life centered around his family, forever teeming with great pride and joy.
Robert worked as a master mechanic, and on several dams — including Dworshak Dam. Then he began his lengthy career as a Potlatch Corporation superintendent based in Headquarters, Idaho. His final career move took him to Musselman Construction. Robert retired in 1997. In every position he held he was always a conscientious, dedicated employee. His reputation preceded him as his career life progressed. He had no problem expressing himself to his employees. His rendition in demanding excellence from his crew usually involved flying tools and well heard colorful language. This action was fondly named "a McDowell," describing his way of shaping his crew into a group of workers striving for excellence. He was also known for his compassion and understanding among his employees. He had an open door policy that was embraced by all of his laborers, including his office staff. He was known as a tough, good natured man who loved to have fun – giving him the celebrity status of being the life of the party.
In addition, a story that deserves recognition was the request by his team that he play the part of Santa at every Christmas party. They procured an authentic Santa suit and away he went. Parties included sitting on Santa's lap and picture taking. He also played Santa with his grandchildren, hiding behind bushes, peeking out just enough so they could see Santa. He always threw them gifts and then quickly disappeared. The kids were so excited for Santa to fill their stockings and leave their gifts that they immediately put their pajamas on and climbed into bed. Not a peep was heard until Christmas morning.
Upon retirement, Robert and Loretta wondered what they would do next. They quickly decided to jump in their motorhome and thus, became "snowbirds," making their destination Parker Dam, Ariz. They continued this adventure for 21 years. They made many lifelong friends during their escapades. Even though they no longer made this journey, they had many visitors and lengthy phone conversations from fellow "campers."
As they settled into a life in the Lewiston-Clarkston Valley, he engendered new adventures. Boating and fishing were among their favorite activities. Robert was also an avid golfer, spending many sunny days on the golf course, even capturing a hole in one five times. Best of all his activities was spending time with Loretta and family and friends. The backyard was an exciting place, hosting numerous barbecues and boisterous parties.
Robert will be extremely missed by his family and friends. His big recliner sits empty, with all of us still "seeing" him "kicking back." Even though we know we will see him on "the other side," his absence is experienced by all.
A celebration of life will be held at 2 p.m. Oct. 23 at the Elk's Lodge, Lewiston.
Service Information
Date & Time

Saturday, October 23, 2:00 PM

Location

Lewiston Elks Lodge #896
3444 Country Club Dr
Lewiston, ID 83501

Get Directions
Offer Condolences