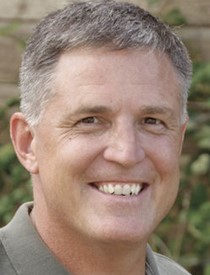 Rodney Grant
11/12/1970 — 6/6/2018
How do you start? How do you do someone's life justice, especially someone who had such an amazing strength of character and complete selflessness all wrapped into one? How do you do that? I guess you start at the beginning.
Rodney Wayne Grant, of Lewiston, died Wednesday, June 6, 2018, as a result of a tragic automobile accident on his way home from work to his family. Rod was born Nov. 12, 1970, in Lewiston, to Ann (Reichlin) and Vergial Grant. He was the eighth of 10 children. He was raised in Nezperce, where he graduated in 1989. After high school, Rod continued his education at the University of Idaho, where he bumped into Noelle Harman (literally), and from there the rest is history.
They were married June 3, 1995, and Rod's devotion to Noelle and his family never changed. He and Noelle celebrated their 23rd wedding anniversary three days before his death. Rod and Noelle made their life in Lewiston, where he worked at Rogers Motors until he had the opportunity to work in the field in which he went to school for at Regence. He worked there in information technology for 16 years. The past five years, Rod was with Walrath Insurance in Orofino. In 1999, their first child and only son, Lane, 19, was born — followed by Rod's three little ladies, Sammi Jo, 16, Karleigh, 12, and Jaidyn, 11.
Family meant everything to Rod. His joy in life was making them happy and spending every possible minute with them. Rod and Noelle would travel hundreds of miles to attend not only every one of their children's sporting events, but nieces and nephews as well. The family enjoyed boating and camping, and Rod, with a smile on his face, would pack everything for their outings, including the kitchen sink, so that everyone had a good time. He coached his kids' basketball and soccer teams and even became their 4-H leader. It was apparent to all that he was not just a father to his own children, but a father to all the friends of his kids as well. Quick to deliver a lasting nickname, his compassion for their friends will be remembered and cherished always. Rod's heart and love were matched by his work ethic and willingness to do absolutely anything for everyone who needed an extra hand. For those who had the blessing to know and be a part of Rod's life, his smile and humor remain firmly in our memories. If you weren't smiling when you came in to Rod's presence, you certainly were when you left. The impression and impact he left after just a short visit is nothing compared to the impact he had on all of us.
A tribute to Rod would not be complete without these words that come directly from his wife, Noelle:
"When Rod and I started dating, it was easy and simple. We had the same goals, beliefs and values. Upon taking our compatibility test as part of our engagement preparation, we only had one answer that was not the same as each other. The priest said he would have thought we had cheated if he hadn't supervised the test. Mom always told me to marry someone I truly 'liked' as much as I loved because there will be times when the romance fades and you need a true friend to see you through the difficult times. I had that in Rod. And as our family grew we were a true team, with Rod as our MVP; and without him we can't help but feel incomplete.
"He was the most devoted dad and husband we could have ever asked for. He would have moved heaven and earth for us, if possible, and we know if anyone could have survived his accident, it would have been him. Rod was so hardworking and selfless, and he loved unconditionally. The man knew no stranger and was the very first to step in to lend a helping hand — to take on the task no one else wanted — and did it with a smile on his face. Rod was big and loud with an even bigger heart to go with it. He did everything at full throttle — work, play, pulling into soccer field parking lots (Comin' in hot!), whatever he did, he gave it 200 percent.
"When trying to put perspective on this whole crazy mess, the only way to 'rationalize' the situation is to put a quality measure on it. Rod was definitely a rare gem as a husband and a dad; whereas some people get cubic zirconias or even gravel for many, many years. If given the choice, we would never trade our diamond in the rough for anyone — we simply had the best.
"We will do our best to honor you and follow your example. But give us time and a little guidance please — you're a tough act to follow. We love you."
Rod is survived by his wife, Noelle, and their children, Lane, Sammi Jo, Karleigh and Jaidyn. He also is survived by his parents, Ann and Vergial Grant of Nezperce; his nine siblings, Kevin (Lisa Johnson) Grant of Meridian, Idaho, Julie (Dan) James of Walla Walla, Aimee (Chris) Braun of Boise, Ron (Kari) Grant of Visalia, Calif., Doug (Misty) Grant of Nezperce, Alan (Andrea) Grant of Bristow, Va., Kelly (Elton) Hochhalter of Boise, Kristi (Craig) Sunada of Pearl City, Hawaii, and Greg (Heidi) Grant of Boise. Rod's father-in-law and mother-in-law, Gordon and Marilyn Harman of Cottonwood, also survive him; along with Noelle's grandmother, Stella Harman of Anchorage, Alaska; and her siblings, Nikki (Tony) Havens of Lewiston, Andy (Stacey) Harman of Asotin, and Pepper (Kim) Harman of Cottonwood. Rod also is survived by numerous nieces and nephews who will forever miss his presence in their lives.
Noelle and her kids would like to thank the numerous friends and family who supported them and helped with the recovery efforts. The family would also like to extend a special thanks to Rusty Bentz, Terry Jackson, Dave Bream (Bus Driver Dave), Jim Pope and Gary Peters.
A rosary will take place at 10 a.m. Saturday at All Saints Catholic Church, 3330 14th St., Lewiston, followed by a Mass at 10:30 a.m. A luncheon will be held afterward at All Saints Catholic Church. In lieu of flowers, the family asks that donations in Rod's name be made to All Saints Catholic School, 3330 14th St., Lewiston, where all of Rod's children attended, and where Jaidyn will graduate next year.
The following was written by someone Rod and Noelle considered family — their kids' second mom:
My heart is truly breaking
As I write this poem today
No matter how hard I try to think
I don't know what to say
Every time I think of Rod
The tears just start to flow
He really was the nicest guy
I think I've ever known
He truly was a family man
Who really loved his wife
There never was a doubt at all
That his family was his life
Rodney was a big guy
Who called his children "smalls"
That always used to crack me up
And we would call him "talls"
His heart was big like he was
And I will miss him so
Why does it have to be so hard
To let this good guy go?
I know Rod's faith was strong
He lived it every day
So even though he isn't here
I know he is OK
Today we all are grieving
Cause we all miss our Rod
But he is in a better place
Where he can talk with God!
Offer Condolences