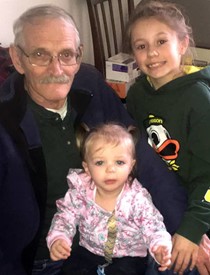 Roger N. Draper
1/28/1949 — 8/18/2018
On Saturday, Aug. 18, 2018, Roger Niel Draper passed away from a long battle with COPD.
He was born Jan. 28, 1949, to Erwin and Francis Draper, at St. Joseph Memorial Hospital in Lewiston. He was one of the youngest of seven children (next to his twin brother, Rodney). He graduated in 1967 from Lewiston High School, then enlisted in the military.
He served 22 years in the U.S. Navy, also serving in the Vietnam War. During the war, he spent some time in the K-9 unit training dogs for defense. After the war, he was stationed in Oak Harbor, Wash., until his retirement in November of 1988. He then spent the rest of his time working as a mechanic and maintenance man.
Roger was a man of many talents. There were not very many things that he could not fix. In fact, if he couldn't fix it then no one could. Car man, do-it-yourself, home improvement or athletics; didn't matter, he'd master it. He was a simple man. When asked what he would want the world to know about him after his passing, he responded with, "he was here and had a good time." He always had a great sense of humor.
The most important thing to know about Roger is that he was one of the few good people who could love someone else's children as his own. He raised two daughters who were not his by blood but were just as much his as children who were his blood. Because of this, his daughters are now able to love their spouses' children as their own. Tragically, his only biological son, Jon Roger Draper, was taken from him at the young age of 14. The two were said to be very close.
He is survived by his daughters, Carolyn Noel Schmidt-Carlson and Chelsea Matilda Schmidt; his grandchildren, Matilda Jolene Schmidt-Carlson and Nevaeh Carlson; his son-in-law, Joshua James Carlson; his stepchildren, Keva Flores, David Hamming and Kelly Hamming; his stepgrandchildren, Stephanie Mcalpin, Amanda Jackson, Brianna Flores and David Flores; his sister, Barbra Draper; his brother, Lionel Draper; his sister-in-law, Vicki Draper; his ex-wives, Cheryl "Annie" Davis and Jean Annette Draper; and many nieces and nephews.
He was preceded in death by his parents, Erwin and Francis Draper; his son, Jon Roger Draper; his sister, Lelah; and his brothers, Gary and Rodney (twin) Draper.
At his request, he was cremated through Vassar-Rawls Funeral Home and Crematory of Lewiston. There will be a small, casual memorial service at 3 p.m. Sunday at the home of his oldest daughter, Carolyn. For more information pertaining to the service, Carolyn can be contacted via e-mail at carollalla@hotmail.com.
Offer Condolences