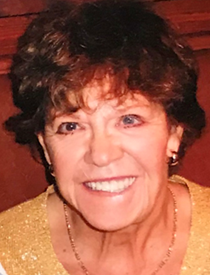 Rosalie "Sherry" Oviatt
7/14/1937 — 8/18/2018
Rosalie "Sherry" May Lilliard was born

 

July 14

, 1937, in Salem, Ore., to Ethel and Frank Lilliard. She passed away quietly on

 

Saturday

, Aug. 18, 2018, in Clarkston, after a short, yet courageous battle with kidney cancer. She was 81.


Sherry graduated from Salem Academy High School in 1955, and later pursued a nursing degree. She was employed as a registered nurse, (critical care, ER, AIDS care, children's camp nurse in Montana and more). Sherry nursed across the ocean from Hawaii to Idaho to Washington. She loved taking care of people. Even after retiring for the third time, she volunteered at the local hospital.


In 1981, Sherry met Albert "Big Al" Oviatt in Honolulu. They were married

 

May 4

, 1981, in Nicosia Cypress, Europe and continued to travel every chance they could get. Sherry even started her own company, Travel Well International, in the early '80s. She was also a certified scuba diver.


After moving to Clarkston in the early '90s, Sherry joined the Lewis-Clark Kennel Club and stayed active all these years. The club even visited and presented her a plaque just days before her death. Sherry and Al raised six basset hounds, Archibald and Annabelle, then Malcolm and Maisie and finally, Mortimer and Mildred as well as two litters of puppies. Sherry was forever busy with dogs, dog shows and dog bragging. She deserved it! The Lewiston Cluster Dog Show runs

 

April 19

 

to 22, 2019. Two days of the show,

 

April 21

 

and 22 will be dedicated to Sherry.


Her loving husband, Al, passed away

 

April 4

, 2008, at the age of 78.


After Al died, Sherry reconnected with an old friend, Bernie Comer, who had lost his wife. He was an accomplished jazz musician. Bernie moved cross country to be with Sherry, but it wasn't long before he passed away.


Sherry stayed busy volunteering and traveling. She enjoyed a wonderful Alaska cruise for her 80th birthday with many of her friends. She also had a three week Mediterranean cruise planned in the  summer of 2018, with her cousin, Patty Patterson. They canceled when Sherry became too weak.


Sherry is survived by numerous cousins, a long list of very loving and close friends, including Patty Patterson from Portland, Ore., her biological daughter, Marita Martinez, from Oregon City and her loving step-daughter, Janette Billmire of Simi Valley, Calif.


Mortimer and Mildred survive her and are now living at their beach retirement home in Oregon with Candace, thanks in part to the wonderful Basset Hound Rescue of Spokane.

Many family and friends came to visit her in Clarkston during those last few weeks of her life.

Everyone who knew her would agree, Sherry was always the most loving and loved person.

Rest in peace, Rosalie, Sherry, Aunt Rosie, Mom.
Condolences
Keri Jones
I volunteered at SJRMC with Sherry. I did not know her well, but always enjoyed our conversations. She is missed here.
My condolences for your loss.
Thursday, October 25, 2018 8:47 AM
Bob Patterson
Sherry was the real deal and words cannot describe the loss here. "Rosie" was my Mother's Cousin but I would rather call her a my friend. I could (I did) count on Sherry for straight talk, honest feedback and great input and advice and she NEVER failed with that. She was a beautiful person and I will forever miss her and her ability to be the real deal and a real friend - to me, and to so many more.
Bob Patterson
Vancouver, WA.
Tuesday, October 16, 2018 7:47 PM
Bob Patterson
Sherry was the real deal. This is just such a huge loss. Her sanity, and approach to life was something I counted on. Something I even depended on. I will never forget our (second to last) last phone call. She left me with words and thoughts to carry me through a life time. There are no words for a loss like this. What a beautiful person.
Bob Patterson
(second cousin)
Vancouver WA
Tuesday, October 16, 2018 7:30 PM
Mary Bauman
I am so very sorry for the loss of my dear friend, Sherry. We met in 1975 on our first day of LPN class. Sher left Lewiston one day after graduation for Hawaii and I stayed in Lewiston. We remained long distance friends. I traveled to visit her in Hawaii and then we both went on to obtain our RN degrees. I was so very lucky she and Al came back here to live. We continued to visit and do things together up until she passed. My favorite memory is our once or twice a year ritual to watch the movie "Arthur", eat pizza and laugh at every line!..Love you,Sher-Bear. Yours, Mary
Sunday, October 14, 2018 7:51 AM
Mary Minton
Remembrances can be made in Sherry's name to Washington Basset Rescue, WABR.net (Spokane Basset Rescue),
or to Traveling Paws journeyhomerescue@outlook.com. That would be the PayPal way to donate to the transporters for gas money. They helped us out to get Sherry's dogs to Oregon!
Also to Lewis Clark Kennel Club (https://www.lewis-clarkkennelclub.com/) for all their support to Sherry and is an organization Sherry supported with much volunteer time. Thank you!
Saturday, October 13, 2018 9:19 PM
Offer Condolences