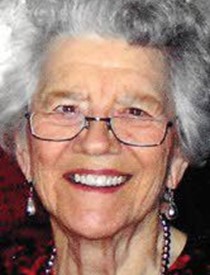 Rosemary Shaber
1/15/1924 — 6/12/2017
Rosemary Shaber passed away at home on June 12, after a lifetime of service, advocacy and adventure. She was born into the Czech-American family of Rose and Louis Frana in Calmar, Iowa, on Jan. 15, 1924.
After graduating from high school, she moved to Buffalo, N.Y., to support the war effort, making radios for battleships until being accepted into the Cadet Nurses Corps at the Kahler School of Nursing in Rochester, Minn., in 1944. She completed her nursing training on the Navajo Reservation in 1947, which inspired a lifelong interest in American Indian cultures.
Rosemary hitchhiked extensively throughout the U.S. and Mexico working as a nurse. In 1951, she started a career in public health nursing, which remained a passion for the rest of her life. While working for the state of Montana as a tuberculosis field nurse, she met and married George K. Shaber and they moved to the Alaska Territory. Over the next 14 years, her growing family moved extensively with George's work in public health. She showed her adaptability and her love for learning by working in public health departments in several states, having three children, and completing a bachelor of science degree in nursing from University of Oregon of Health Sciences, with highest honors.
In 1966, the family settled in Lewiston and Rosemary began a 23-year career with the North Central District Health Department that distinguished her as a leader and a change agent in the field of public health. She was a tireless and courageous advocate for healthy communities and forged a broad base of community support for immunization, fluoridation, family planning, sex education and anti-smoking campaigns. Her support for Rotary International's promotion of immunization clinics led to Rosemary becoming the first woman in Idaho to join Rotary after the 1987 Supreme Court decision barring private clubs' discrimination against women.
Her diverse skills and talents for grant writing, organizing, educating and lobbying enabled her to administer more than 20 multi-county health programs, including many firsts for Idaho. Rosemary developed the first family planning program, the first health promotion program to be carried out in business and industry, and was instrumental in defining an expanded role for nurse practitioners in Idaho against stiff resistance from physicians groups.
Rosemary served on and chaired numerous professional nursing organizations' state and county boards, including the Idaho Board of Nursing. She became a practitioner of therapeutic touch and traveled extensively around the Northwest teaching other health professionals. She served as a public health consultant in Ecuador and was part of a People to People Public Health delegation to China. In 2010, Rosemary was awarded the Excellence in Nursing Award for her lifetime contributions to the profession.
Despite a demanding professional life, Rosemary worked hard at balancing work and family. She was actively involved in the swim team parents' club, traveling to every summer swim meet for more than 10 years. She was also an excellent cook, seamstress, cake-decorator, gardener and knitter in the service of her family.
After retiring in 1989, Rosemary continued to serve on boards of non-profit organizations including Opportunities Unlimited and the American Cancer Society. She traveled the U.S. and the world with Elderhostel, various cycling tours, friends and family. At 88, she moved to Australia to live with her daughter's family for three years, making many new friends and embracing all things Australian. When her vision failed, she continued to enjoy learning through Talking Books and was immensely grateful for the national and state libraries for this service.
Rosemary will be forever remembered as a loving and supportive mother and grandmother, cherished friend, community activist and benefactor. Her spirit lives on in her many friends and her surviving family: Mark and Mary, Craig, Kendal and Ken, and her four grandchildren: Stephen, Christian, Morgan and Aaron.
In honor of her lifelong passion for learning, the family has established a nursing scholarship. In lieu of flowers, family and friends are encouraged to make a donation to the Rosemary F. Shaber Nursing Scholarship at Lewis Clark State College. Checks can be mailed to LCSC Foundation, 500 Eighth Ave., Lewiston, ID, 83501.
Family and friends will celebrate Rosemary's remarkable life from 2 to 4 p.m. Sept. 16 at the LCSC Center for Arts and History.
Service Information
Date & Time

Saturday, September 16, 2:00 PM

Location

LCSC Arts & History Center
415 Main Street
Lewiston, Idaho 83501

Get Directions
Offer Condolences