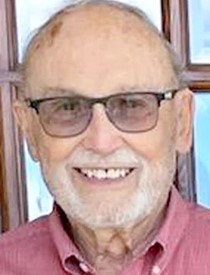 Russell C. Walker Jr.
6/6/1932 — 2/20/2023
Russell Curwen Walker Jr., 90, of Lewiston, died Monday, Feb. 20, 2023, in Spokane.
He was born June 6, 1932, in Arco, Idaho, to Russell Curwen Walker and Ethel Elizabeth Fugate Walker. He had one sister, Lois Nadyne Walker Connaughton.
He attended public school in Arco from grade one through the 12th grade, all in the same building. Russell also played on football and basketball teams during his three years in high school.
Russell attended Idaho State College and graduated from College of Idaho with Bachelor of Arts in business. He then served in U.S. Army 1955 to 1957, doing his basic training at Camp Carson, Colo., and Fort Bliss, Texas, then being assigned to Fort Bliss. He was transfered to Fort Lewis, Wash., then later to Okinawa. He also visited Tokyo on leave and was discharged from Army at the Presidio at San Francisco.
He returned to home at Arco, recuperated from broken leg received in an auto accident, and was employed by Phillips Petroleum Co., at what was then called the National Reactor Testing Station near Arco. He was next employed by Argonne National Lab, also at NRTS. Then was employed by General Atomic Co., also at an NRTS site.
While at Argonne Lab, he met Cherie Ann Dayton and they were married in 1963 at Idaho Falls.
Their son, Michael Loren, was born April 1, 1965.
General Atomic Co. lost its government contract at NRTS in March 1967, and the family moved to San Diego and he continued to work at General Atomic.
Son Mark Russell was born Jan. 2, 1968, and son Scott Curwen was born Aug. 4, 1970.
Cherie and Russell divorced in 1977.
He met Margaret Joyce Munson in March 1995 through mutual friends.
Russell retired in 1996 after 19 years with General Atomic.
Joyce retired in 1997 and they spent their time gardening, traveling and just enjoying life in general.
Following their trip to New York City in 2012, Joyce was stricken with a rare neurological disorder and passed away Sept. 1, 2014.
On Sept. 14, 2019, Russell's son Scott passed away very unexpectedly at age 49.
Russell had never failed to anticipate getting old. He foresaw many parts of this — the fingers that seemed like stone, the way the memory begins to slip, the way he has become the old man who holds up everyone behind him. But he did not guess at how natural it would feel to be retreating from the world. Caring goes on, but you accept more and more that you have limited time and, thus, effect. Your connections in the present dwindle, as peers die, as you lose your spouse. You are at a distance and it requires more effort to understand what others are saying especially regarding the high-tech aspects of the present world.
He had a sudden recognition of Nature's plan: We mix and mate as part of her goal to combine and recast DNA. She is eternally looking for a better set of chromosomes. From her perspective, humans are essentially a race of shape-shifters, present temporarily before leaving our genetic material behind. We are all Nature's fools, tricked by instinct into believing in the importance of The Self.
A memorial gathering will be held from 4-6 p.m. Saturday, March 18, at Vassar-Rawls Funeral Home, 920 21st Ave., Lewiston.
Service Information
Date & Time

Saturday, March 18, 4:00 PM

Additional Details

A memorial gathering will be held from 4-6 p.m. Saturday, March 18, at Vassar-Rawls Funeral Home, 920 21st Ave., Lewiston.
Offer Condolences