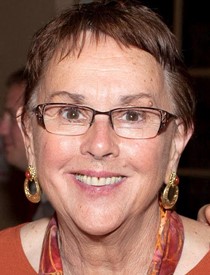 Russie L. Hastings
11/26/1942 — 9/26/2021
Russie Louise Walker Hastings passed away Sunday, Sept. 26, 2021, at her home from cancer with all her family present.
Russie was born Nov. 26, 1942, at Our Lady of Consolation in Cottonwood to Ariel and Evelyn Walker. She and her parents were living in Harpster at that time. The next day her father left for WWII and did not see her for three months. Russie and her mother lived at their home in Harpster until they followed Ariel to Fort Wayne, Ind., and Ocean City, Wash.
After the war, Russie and her parents moved to Lewiston in 1946 and built a home on 18th Street, in the Lewiston Orchards. Russie attended Orchards Elementary, Lewiston Junior High School and Lewiston High School, graduating in 1961. The most fun she had in high school was graduation. She enjoyed attending her 50th class reunion and reconnecting with old friends.
In 1976, she moved with her children to Blackfoot, Idaho, where she stayed for seven years, moving to Seattle in 1983. In 1984 she moved back to Lewiston and built a new home next to her sister on the family property on 18th Street, to be close to family. She spent the next 38 years there until her death.
She rollicked through life with much enthusiasm and boundless energy, always serving others. Her passions being her family, church, gardening, decorating with antiques and genealogy. She had volumes of family history dating back hundreds of years.
She served in many capacities at church, which she loved. She taught seminary for many years for The Church of Jesus Christ of Latter-day Saints, of which she was a lifelong member. She never stopped exploring the scriptures and was an authority on many topics.
Russie loved to volunteer in the community. She taught cooking lessons for the Idaho Foodbank and delivered Meals on Wheels. She spent many years volunteering for the Nez Perce County Fair in the flower show and paper crafting. Most recently she was a member of the fair board and delighted in making the county fair a fun event.
Russie loved to read, and history was her passion. She loved traveling and took many trips around the country with her children and grandchildren. She particularly loved traveling to historical cities or sites and helped educate her traveling companions. Gettysburg and Ford's Theater visits were bucket list destinations that she was finally able to experience. She was keenly aware of her rich pioneer heritage and loved to visit church historical sites to draw connection to her family history. She was a proud member of The Daughters of the Utah Pioneers and Daughters of the American Revolution.
Everyone gathered at Grandma and Aunt Judy's homes for all holidays and many family dinners — whatever the occasion. Breakfast with biscuits and gravy were a favorite. Fourth of July was a spectacular culmination of epic water fights and fireworks. Sometimes we numbered in the 30s with everyone welcome. Rarely an event went by without inviting someone who did not have a place to go. Food, fun, good conversation and raucous laughter was plentiful. Game time was brutal with competition, and Russie was a ferocious competitor.
Russie was preceded in death by her father and mother, Ariel and Evelyn Walker. She is survived by her sister and her brother-in-law, Judy and Jim Hoffman. She and her sister were lifelong friends and frequent partners in crime. She was also survived by her children: Leslie and Rick Smith, Joel and Michelle Hastings, Scott and Mary Hastings, Holly and David Simmons, Dennis and Deedra Hastings, and Robin Hastings; 18 grandchildren; and seven great-grandchildren; and two nieces, Jill and Grant Haddaway and Johnna Hoffman. Russie delighted in her posterity, and they were her greatest delight.
Most mornings Russie was found outside in her garden. Her family will continue to look at her garden and expect to see her there. She was loved and will be missed.
A viewing will take place from 4-6:30 p.m. Thursday at Vassar-Rawls Funeral Home. A memorial service will be held at 11 a.m. Friday at The Church of Jesus Christ of Latter-day Saints, Lewiston Second Ward, 3810 16th St. Memorial contributions can be made to the Nez Perce County Fair, 1229 Burrell Ave., Lewiston, ID 83501.
Service Information
Date & Time

Friday, October 1, 11:00 AM

Location

The Church of Jesus Christ of Latter-day Saints - Ripon
3810 16th St
Lewiston, ID 83501

Get Directions

Additional Details

Viewing will be held Thursday 4-6:30 p.m. at the funeral home.
Offer Condolences