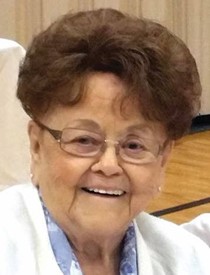 Ruth V. Anderson
7/3/1925 — 11/22/2017
Ruth, our mother, passed away Wednesday, Nov. 22, 2017, at age 92. She was born July 3, 1925, in Youngstown, Ohio, to Thomas and Ebbie (Dixon) Sims. Ruth came from a family of eight siblings. She attended grade school and high school in Youngstown.
She moved to Spokane and there she met and married Eugene A. Whitfield, from Farragut, Idaho, on Feb. 23, 1944, in Coeur d'Alene. Mom gave birth to a daughter, Janetta "Jan" Whitfield, born Jan. 29, 1945. They divorced a year later in 1946. Mom and Jan moved back to Youngstown.
While living in Youngstown, mom worked at the Ivar's Factory, where she met Udell Emerson Anderson, known as Del. Mom and Dad moved to Lewiston, where they were married Nov. 18, 1950. Dad worked at Holsum Bakery and Mom stayed home as a housewife. Two years later, Mom gave birth to a daughter, Darcy D. Anderson, on June 23, 1952. Then, 18 months later, mom gave birth to a son, Barry E. Anderson, on Feb. 23, 1953. Mom started to work part time at Holsum Bakery at the thrift store in 1965. She became manager of the thrift store inside Holsum Bakery, which soon became Snyder's Bakery, and they built a bigger thrift store across the street from the bakery.
Mom enjoyed working for the public. Her passion was decorating the thrift store for the holidays. Mom was a loving and generous soul. Dad passed away Jan. 3, 1974. They had 25 years - good years - together. Mom continued to work; she always said she was "blessed that she had her job at the bakery." She retired in 1990 after serving the public for 35 years. She had a companion, Bill Weber, after Dad passed. Bill and Mom had 25 wonderful years until he passed away Nov. 25, 1999.
Mom became a member of the Catholic Church. She and her best friend, Rosemary Laney, loved attending the services together. They were two of a kind. Rosemary and her family were very dear to my mother. The church was very special to my mom.
Our mother loved the Christmas holiday and being with her family and friends. Every year, she enjoyed baking her candy. She was known for her Famous Mints, peanut butter bon bons, fudge, Chex mix, ranch pretzels and toffee. There was always a science to each batch. She was very particular about the process. Unfortunately, she took her Famous Mint recipe to heaven. No family recipe here. That was our mom, do it yourself and get it done. No time to waste. That was her motto.
Ruth Anderson was preceded in death by her two siblings, Betty Tyndall of Eagle Rock, Calif., and Snooki Budervich of Cleveland. She is survived by her children, Jan McGuire of Lewiston and Darcy Bailey of Spokane; and Barry Anderson (deceased); grandkids Amber Bailey of Englewood, Colo., Lane Mathews of Spokane, Steve Tate of Lewiston, Amanda Anderson of Billings, Mont., and Austin Anderson of Maple Valley, Wash.; great-grandkids Madison Fanshawe of Englewood, Kody Mathews of Spokane and Vivian Denney of Billings.
Her celebration of life will be held at 11 a.m. Saturday at All Saints Catholic Church, 3330 14th St., Lewiston. A dinner will follow.
In lieu of flowers, please make a donation in Ruth Anderson's name to All Saints Catholic School; or for research on macular degeneration.
Service Information
Date & Time

Saturday, December 2, 11:00 AM

Location

All Saints Catholic Church
3330 14th Street
Lewiston, ID 83501

Get Directions
Offer Condolences