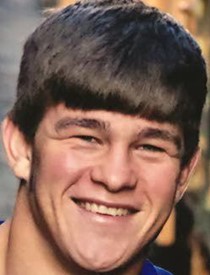 Ryan S. Rigney
10/5/1993 — 11/11/2018
Ryan Scott Rigney passed away Sunday morning from a tragic hunting accident while surrounded by family and friends in the place that he loved the best, the north woods of Idaho. He is now at peace with his uncle Joe, aunt Callie and grandpa Mike in heaven.
Ryan was born Oct. 5, 1993, in Lewiston. He graduated from Lewiston High School in 2012, with a state wrestling championship and many football honors. Aside from his love of his little boy, Waylond, his second love was being in the outdoors, hunting, fishing and horn hunting. If he wasn't at work welding, he was in the woods with his friends and family.
Ryan was a truly loyal friend and a gentle soul. He would give the shirt off his back to help anyone in need. He also had a contagious smile and "stupid strength." He marveled us all with his feats of strength and legendary pack-outs of deer and elk.
Ryan's greatest joy in life was passing all his knowledge and love of the outdoors to his son, Waylond, on their countless outings and adventures. Being an amazing dad was the most important accomplishment of his life. Ryan was such a committed father, he would even watch "Disney on Ice" with his boy and family as long as it made his son happy.
Ryan worked at Gateway Trailers as welder/fabricator. Welding was his third passion in life. He worked tirelessly at being proficient and excellent at his job. Ryan was a true artist at welding and fabricating. Before he became a father, he wrote his son a letter. In his words, we can see what a truly special person Ryan was: "I hope I've done good. Through the years my intentions have been always been in yours and your mom's best interests. If you ever need anything at all you know where to turn — you will always have a family, no matter what. And if I ever forget to say it, we love you son."
There are no words to express how much Ryan was loved and will be missed — forever remembered.
Ryan was preceded in death by his uncle, Joe Rigney, aunt Callie Cleveland and grandpa Mike Douglas Rigney.
He is survived by his son, Waylond Joe Rigney of Lewiston; best friend Jacqueline Broemeling of Lewiston; brother Trevor Rigney of Wenatchee; brother Christopher Meek of Las Vegas; brother Shawn Kirk of Lewiston; sister Kayla Kirk of Portland, Ore.; sister Lacie Hassett and husband Tyler of Lewiston; father Scott Rigney and wife Sherry of Lewiston; mother Lisa Staples and husband Mike of Wenatchee; grandma Cathy Rigney of Lewiston; grandparents Mel and Lynette Streeter of Lewiston; grandparents Gary and Inez Edwards of Post Falls, Idaho; uncle Mike Rigney and wife Pam of Leland; aunt Julie Rigney of Lewiston; aunt Michelle Dady and husband Kirk of Spokane; uncle Stacy Streeter of Lewiston; uncle Jeff and wife Julie Streeter of Boise; uncle Jason Cleveland of Las Vegas; uncle Allen and wife Tracy Edwards of Moscow; dearest friends Zane Madruga, Sheldon Thorton and Adam Glasser, all of Lewiston; cousins Josh and wife Amanda Rigney of Lewiston, Hannah and James Truitt of Leland, Eliah Rigney of Leland, Isaac Rigney of Leland, Abigail Rigney of Leland, Joseph and wife Lacy Rigney of Lewiston, Jessica Rigney of Lewiston, Hannah Cleveland of Las Vegas, Hailey Cleveland of Las Vegas, Kendall Edwards of Moscow, River Bishop of Coeur d'Alene, Machaela Bishop of Coeur d'Alene, Justin Streeter of Bozeman, Mont., and Jackson Streeter of Boise.
In lieu of flowers, please consider donating to Potlatch No. 1 Federal Credit Union c/o Waylond Rigney.
Services will be held at 11 a.m. Saturday at CrossPoint Alliance Church, 1330 Powers Ave., Lewiston. Covered-dish dinner to immediately follow services at CrossPoint Alliance Church.
Service Information
Date & Time

Saturday, November 17, 11:00 AM

Location

CrossPoint Alliance Church
1330 Powers Avenue
Lewiston, Idaho 83501

Get Directions
Condolences
Mark Sheppard
He will be greatly missed it was a pleasure to be his Dentist an provide care to him an his family. He was a fine young man .....know he is lovved
Wednesday, December 12, 2018 12:02 PM
Offer Condolences