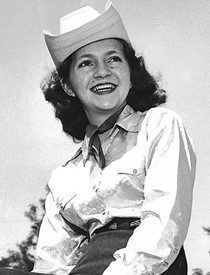 Sallie McHargue
4/12/1937 — 4/13/2018
On Friday, April 13, 2018, the day after her 81st birthday, Sallie Jeanne McHargue passed on while surrounded by her family in Lewiston. Sallie was born in Lewiston on April 12, 1937, to Cleo McHargue (Williams) and Earl "Mac" McHargue. She spent most of her childhood in her beloved Elk City with her grandparents, Joe and "Mae" Williams.
Sallie's love of horses - cultivated by her grandparents and older brother, Bob - led to many adventures on horseback with her cousin (more like sister), Noel Leonard (LaPlante), frequently with her younger brother, Mike, in tow. She attended school in Elk City and Lewiston, graduating from Lewiston High School. After business school in Spokane, she began working for law offices in Lewiston and eventually Grangeville.
Her desire to work in the outdoors spurred a long career with the Forest Service, beginning with the Nezperce National Forest in Grangeville, then the Clearwater National Forest in Orofino, and finally the Challis National Forest in Challis and Salmon, Idaho. Some pride points from her career include being one of the early women pioneers in the male-dominated forest industry, ranging from leading a women's tree-planting crew to her survey work as a civil engineering tech, culminating in her work in fire as a renowned dispatcher.
Sallie loved nature, especially gardening, wildlife and anything related to horses. She enjoyed family road trips, bowling, dancing, live music and trying new foods. She was preceded in death by her brothers, David and Robert McHargue, and both her parents. She is survived by her two sons, Mike (Sherrie) Bigsby and Kelly Bigsby; three daughters, Jamie McHargue, Ross (Dennis) Coulter and Casey Fisher; her brother, Mike McHargue; cousin Noel LaPlante; sisters-in-law Mary and Jayne; and many grandchildren.
In accordance with Sallie's wishes, no formal services will be held. In lieu of flowers, please send any pictures, recollections or stories of Sallie to Ross Coulter at 2313 First Ave. N., Lewiston, ID 83501.
Offer Condolences