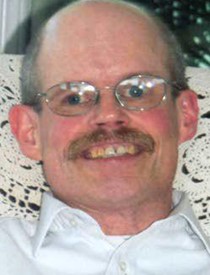 Scott W. Johnson
6/12/1962 — 4/24/2019
Scott William Johnson, formerly of Lewiston, passed away Wednesday, April 24, 2019, at Deaconess Hospital in Spokane, of pneumonia.
To bid Scott farewell on the last leg of his journey were his mother; dear sister Jackie; cousins Darla McLaughlin and DeeAnn Moyes; and friend Craig Ames. He was born June 12, 1962, in Clarkston, the special son of Charles Leonard Johnson and Eva Kunz Johnson Berry.
When he was 21, Scott moved to Joyce's Shelter Home, where he had friends with similar disabilities. They were like family to him. He loved the annual trips to Disneyland, Yellowstone Park and other fun places. For about the past four years, Scott lived at Valley Vista Care Center in St. Maries, where he was happy, well cared for and spoiled.
Scott spent many years participating in Special Olympics in cross-country skiing, bowling and soccer, where he won many gold medals and awards which he was proud of. He was employed by Opportunities Unlimited Inc. in Lewiston for 37 years. He was a perfectionist at inspecting and packaging ammunition for Speer, which was his favorite job at OUI. He loved working there and the people he associated with. He received many awards for hardly ever missing a day's work.
Scott loved his family and enjoyed spending time with them, especially on holidays. He was very fond of firetrucks, firemen and loved touring the fire departments. We appreciate how the wonderful men at the Lewiston Fire Department took Scott under their wings and showed him kindness. He also loved the Seattle Seahawks, bingo, fishing and boating.
Scott was a member of the Church of Jesus Christ of Latter-day Saints and loved going to church when he was in better health. All the many people who helped make such a big difference in Scott's life will not be forgotten. He was truly a special young man. We take peace in knowing he stands before his Heavenly Father in perfect form, both in mind and body. We will meet again soon, Scott. Until then, know how much you are loved and will be missed.
Scott is survived by his mother, Eva Berry; sister Jackie Oakes of Lewiston; sister Janis Johnson of Moscow; nephew Michael (Abbi) Gruell of Lewiston; niece Megan Borgen of Coeur d'Alene; grandniece Gracie Sweet; grandnephews Andrew Sweet, and Matthew and Shane Gruell; stepbrothers Lee (Brenda) Berry of Indiana, Stephen (Darlene) Berry of Ohio, Daniel (Fowler Jean) Berry of Florida and Troy (Terry) Berry of California; nephew Kenny (Rheanda) Oakes, nieces Kim (Ryan) Moss and Heidi (Aaron) Wolf, all of Lewiston; and many loving aunts, uncles and cousins.
He was preceded in death by his father; older brother, James Leonard Johnson; brother-in-law Levi Oakes; stepfather Garylee Berry; and grandparents Claude and Winnie Johnson and Parley and Hilda Kunz.
A graveside service will be at 11 a.m. Saturday at Normal Hill Cemetery in Lewiston, with Vassar-Rawls Funeral Home in charge of arrangements.
Service Information
Date & Time

Saturday, April 27, 11:00 AM

Location

Normal Hill Cemetery
1122-7th Street
Lewiston, Idaho 83501

Get Directions
Condolences
gayle
Eva, I am sorry for your loss. I enjoyed being part of the team that helped Scott have some independence and keep working at OUI.
Monday, April 29, 2019 2:28 PM
Don & Donna Pugmire
Aunt Eva,
Our hearts and thoughts are with you and your family.You are such a special Aunt to us and wish we could be with you today. We Love and truly know Scott is a special person.
Love You
Don & Donna
Saturday, April 27, 2019 9:18 AM
Offer Condolences