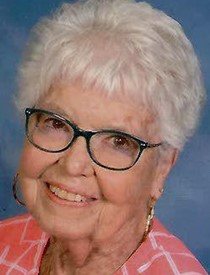 Sharon N. Becker
8/6/1937 — 4/6/2019
Sharon Nibler Becker, 81, passed away Saturday, April 6, 2019, in Lewiston. She was born Aug. 6, 1937, in Colfax and was adopted shortly after that by George and Nell Nibler of Uniontown. She attended grade school at St. Boniface School in Uniontown and graduated from Notre Dame Academy in Colton in 1955. She went to work at Farmers State Bank in Uniontown after graduation and married Herb D. Becker on May 12, 1956.
Being raised as an only child, she married into a family of 11 and knew she wanted to have kids. She chose to be a stay-at-home mom until the early '70s, at which time she worked part time at the Community Market in Uniontown. She went full time at Washington State University in 1977 until retirement in 1997. They enjoyed playing cards, camping, boating and water skiing. She was a magician on the sewing machine and made several quilts. She was a member of St. Boniface Parish and on the parish council and endowment foundation. She held office as president and secretary/treasurer for American Legion Auxiliary. She also held those offices for St. Boniface Altar Society. She lived 75 years in Uniontown and moved to Lewiston in 2012.
Her husband, Herb, died in 1990. Her youngest son, Rusty, died from an asthma attack in 2000. She is survived by daughters Janine (Jay) Winchester of Carlton, Ore.; Jill Link of Medical Lake, Wash.; and Melody (Stogy) Sandahl of Lewiston; and son Wayne Becker of Clark Fork, Idaho. She is also survived by stepchildren, Lorena (Bubba) Powers or Orofino and Ken (Anna) Brown of Alaska. She is also survived by several grand and great-grandchildren.
A rosary will be recited at 6:30 p.m. April 22 at St. Boniface Catholic Church, Uniontown. The funeral Mass will be celebrated at 11 a.m. April 23 at St. Boniface Catholic Church, Uniontown. Burial will follow at St. Boniface Catholic Cemetery in Uniontown.
Vassar-Rawls in Lewiston has been entrusted with arrangements. In lieu of flowers, please consider donations to either St. Boniface Church Endowment Fund or All Saints Catholic School in Lewiston.
Service Information
Date & Time

Tuesday, April 23, 11:00 AM

Location

St. Boniface Church
206 S Street Boniface Street
Uniontown, Washington 99179

Get Directions

Additional Details

A rosary will be recited Monday April 22 at 6:30 p.m. at St. Boniface.
Condolences
Karen Quillard
Janine, Wayne, Jill and Melody, you guys are all in our thoughts and prayers! This picture of your mom is beautiful! May Sharon rest in Jesus' loving arms and may he help you through this time of loss. Love you guys! Karen, Bill and Lil
Tuesday, April 16, 2019 9:52 AM
Offer Condolences