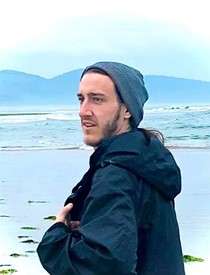 Spencer C. Pupo
9/19/1944 — 12/8/2021
Spencer Christian Pupo, age 27, passed away suddenly Wednesday, Dec. 8, 2021, because of complications of a respiratory illness.
Spencer was born Sept. 19, 1994, in Lewiston and graduated from Lewiston High School in 2013. Spencer then moved to Spokane to work. He has been at Inland Millworks for the last several years as a woodworker under the wings of the owner's son, Joe Jr., with whom he had become the best of friends. Spencer loved life, his partner, Justine, and all his family and friends. He enjoyed all outdoor activities, especially any kind of board he could put two feet on — skateboard, wakeboard, snowboard, skim board and water skiing. He loved to spend time at the family cabin at Newman Lake with family and friends; his favorite was the 4th of Julys where he enjoyed all of the fireworks.
Spencer had many passions, including gem and handmade art collecting, cooking, music and music festivals, camping, hiking, visiting the Oregon coast, huckleberry picking and road trips all with Justine.
They scoured the California/Oregon coastline looking for knob cone pine cones for his handmade crafts. Spencer was just starting his own business with a website built by his brother, Gabe, to showcase his crafted jewelry and cone pendants.
Spencer enjoyed life to the fullest and lived for the next adventure. "A beautiful life came to a sudden end, he died as he lived — everyone's friend."
Spencer is survived by his parents, Sharon and Dave Pupo, his brother, Gabriel Pupo, and his partner, Justine Didier; also his grandmother, Kay Pupo, along with many aunts, uncles and cousins.
He was preceded in death by his loving grandparents, Harry Pupo and Paul and Donna Nolan, aunt Paula Nolan, and cousins Molly Bowman and Ben Grant.
Spencer's best buds were Joe Jr., Chance and James, and many, many others.
Spencer was an organ donor and was able to give the gift of a new life to many people. He was a "HERO."
A private service will be held at Holy Cross Cemetery. A celebration of life will be held at a later date in Spokane. TBD.
Offer Condolences