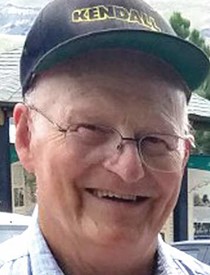 Steven D. Johnson
11/14/1939 — 2/24/2018
Steven D. Johnson, 78, passed away Friday, Feb. 24, 2018, in Lewiston, with his family by his side. He was diagnosed with cancer nine months ago and continued to live every day to the fullest, with quiet strength and deep faith.
Steve used to say he was "born and raised in a sawmill," but his actual birth took place Nov. 14, 1939, in Orofino. His parents were Hjalmar and Myrtle Johnson of Weippe.
Throughout his life, Steve worked as a millwright and mechanic at various mills, but he got his start at the family operation in Weippe. His father knew Steve was cut out for the industry when the boy successfully delivered his first load of logs at age 12.
In 1958, Steve graduated from Weippe High School. A year later, he married the love of his life, Sherry L. Armitage, on June 3, 1959, in Clarkston. Together, they raised three sons and a daughter who brought him much joy and happiness. Sherry survives him at the Lewiston home they bought 50 years ago as a young, married couple.
Steve was a gentle, kind man who loved his family, logging, cattle, hunting, fishing and working on cars. A natural-born mechanic, he could fix just about anything and enjoyed taking on projects, big and small.
He was a longtime Jehovah's Witness who served with the Orchards congregation. It made him happy to share the Bible's message with others. He leaves behind many friends and family members who admired his calm, steadfast demeanor. He will be remembered as one of the best; a truly great husband, father, grandfather, friend and neighbor.
Steve was preceded in death by his parents and brothers Jimmy, Tommy and Eddy.
In addition to his wife, he is survived by his children and their spouses: Garrett and Polly Johnson of Coeur d'Alene, Lane and Alisa Johnson of Lewiston, Scott and Lorena Johnson of Hayden, Idaho, and Lana and Rich Sager of Colville, Wash.; grandkids Rachell, Aaron, Joscelyn, Jordan, Jesse, Blaine, Cole, Brandon, P.J. and Chelsee; nine great-grandchildren; siblings Betty and Bill Cole of Weippe, P.L. and Doris Johnson of Lewiston, Clayton Johnson of Weippe, and Gene and Kelly Johnson of Grangeville.
A celebration of Steve's life will be held at 1 p.m. Saturday at the former Daily's Bakery building, 700 Sixth St., Clarkston.
Service Information
Date & Time

Saturday, March 3, 1:00 PM

Location

Daily's Bakery
700 6th Street
Clarkston, Washington 99403

Get Directions
Offer Condolences