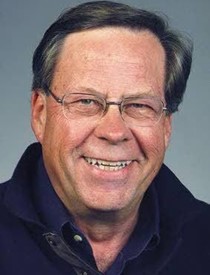 Terry B. Kolb
5/14/1945 — 2/21/2022
Terry Boyd Kolb, 76, retired Avista area manager and a Port of Lewiston commissioner for a total 14 years, died Monday, Feb. 21, at Lewiston's St. Joseph Regional Medical Center.
Kolb was a civic leader in his 42 years in Lewiston, serving as a member and president of numerous organizations.
He was born May 14, 1945, in Spokane, the son of Donald and Ruth Kolb. Kolb was a graduate and baseball catcher at Shadle Park High School in Spokane in 1963 and a graduate of Eastern Washington University. He was drafted into the U.S. Army in 1966, serving two years at Fort Richardson near Anchorage, Alaska. He returned from the Army to graduate from EWU in 1970.
He was married to the former Nancyann Roitz, of Spokane, in 1967.
Kolb began his career with Washington Water Power Co., predecessor to Avista, in 1970, as an electrician helper, with growing responsibilities in Noxon, Mont., in the mountains next to the Clark Fork River, then in Spokane and Coeur d'Alene. He moved to Lewiston in 1981 for a promotion with Washington Water Power.
In 2005, Kolb was named Lewiston Outstanding Citizen by the city of Lewiston.
He was elected to the Port of Lewiston Commission and served from 1996-2008, when he was succeeded by current commissioner Jerry Klemm. Kolb was selected to fill the unexpired term of late commissioner Peter Wilson in 2009-10. He helped lead the port's development of Nez Perce Terrace, home to Schweitzer Engineering Laboratories and other businesses.
Two other Kolb favorites were serving as president and board member of St. Joseph Regional Medical Center and as president and board member of Valley Vision, the region's economic development corporation. It was during his presidency that the region attracted Sky West/Delta air service to Salt Lake City.
Education service was another endeavor. He was a member and president of the Lewis-Clark State College Foundation board, was on the Lewiston School District Strategic Planning Committee and the Lewiston Chamber of Commerce Business/Education Alliance.
He was active in Twin County United Way and was honorary campaign chair in 2004.
Kolb also was instrumental in sports organizations. He was a supporter of the Lewis-Clark State College baseball program. That included being a member of the LCSC Dugout Club, which initiated Harris Field improvements helping make it possible to first attract the Avista NAIA Baseball World Series. He was a Little League baseball coach for several years.
Kolb was a longtime member of Lewiston Golf & Country Club and an ardent year-round golfer. He had one hole-in-one, in 2009.
He was a member of Phi Chi social fraternity.
During his Coeur d'Alene years, he was president of the Coeur d'Alene Kiwanis Club.
Kolb is survived by his wife, Nancy, and by two sons, Todd (Erin) and grandson Adam, and Kelly (Courtney) and grandsons Austin and Carson. All are of Lewiston. He is also survived by two brothers, Don (Charmaine) and Jim (Vivian), all of Spokane, and nieces and nephews.
He was preceded in death by his parents and an infant sister.
Kolb was known to only reticently take vacation time from his Avista work, with two exceptions. One was to attend all sons' and grandsons' sports contests. The other was to take family vacation time at their Coeur d'Alene Lake cabin. He especially enjoyed his role as a loving, devoted grandfather.
The Kolb family extends special appreciation to medical and nursing staff of St. Joseph Regional Medical Center.
The family has held a private committal service.
Lewiston's Vassar-Rawls Funeral Home was in charge of arrangements.
The family suggests memorials in his name to the Lewis-Clark State College baseball program. Memorials may be sent to the Lewis-Clark State College Baseball Program, c/o the LCSC Foundation, 500 Eighth Ave., Lewiston, ID 83501.
Offer Condolences