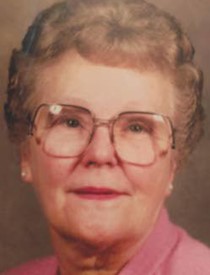 Thalia Nottingham
8/27/1925 — 7/7/2018
In the early hours of Saturday, July 7, 2018, Thalia peacefully passed on to heaven. She was preceded in death by her husband, Charles "Chuck" Nottingham; sister Mona Fike; and son Roy L. Snyder. She is survived by her daughter, Lynn Bailey; son Edward Snyder; grandchildren Corey Munro, Nikki Wolf, Megan Snyder-Ingram, Molly Snyder, McKenzie Peterson, Tyler Dibble and Troy Snyder; and six great grandchildren.
She was born Aug. 27, 1925, to Charles and Thelma Bailey, and lived a very full life. She grew up in Bovill and later attended Kinman Business College in Spokane. She eventually ventured out away from the area. She returned later to live in Nezperce with her husband, Jerry Snyder. After separating from Jerry, she married Charles "Chuck" Nottingham, and they settled at their home on the river in Kamiah.
Thalia worked as a bookkeeper for Dabco and upon retirement, she and Chuck had a full-time job keeping up "The Place," as she referred to their home. Thalia always fed the hummingbirds throughout the spring and summer. It is said there were so many hummingbirds at her feeders that she went through 125 pounds of sugar feeding them throughout the warm months. Thalia and Chuck spent much of their free time bowling, playing cards, fishing and camping out of their fifth wheel, often with a couple of grandkids in tow.
After her husband, Chuck, passed away, Thalia relocated to Lewiston, where she lived out the remainder of her years.
She is remembered by her family as a fair, fun, hard-working and loving wife, mother and grandmother. She was always up early and busy all day. Grandkids remember many weekends camping with them and playing at their home. At their house, work always seemed like playful pastime. Thalia's presence in their lives will be greatly missed.
Services will be announced at a later date.
Offer Condolences