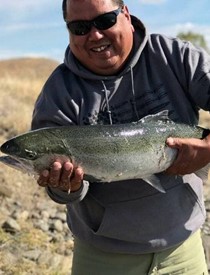 Thomas J. Butcher
6/24/1967 — 9/28/2021
Tom Butcher, 54, of Lewiston, passed into the loving arms of our Savior, Tuesday, Sept. 28, 2021, of complications of COVID-19.
Tom was married to Christine (Lewis) Butcher on Oct. 1, 2016. He was born in Spokane and adopted by his parents, Howard and Joan (Christman) Butcher, June 24, 1967.
Tom was a team member at Pratt Mayflower Moving and Storage in Pullman for nine years. He also was a team member at Chipman United in Spokane for eight years before this.
Tom was an avid outdoorsman. He enjoyed hunting, fishing and camping with family and friends. He was an avid supporter of his Second Amendment rights and had an extremely wide knowledge of guns of every era, shape and use. Tom shared his love of hunting turkeys, deer and even antelope with his wife, Christine, and many friends and family. His breadth of collecting and knowing of all fishing lures and poles for any type of fish or instance of fishing was vast and immeasurable. His fishing equipment alone has a dedicated room all to itself.
Tom was also a popular hockey player for various hockey teams throughout Spokane. He was a bruiser for the line and then later was an officiant for many years.
Tom went to St. Patrick's parochial school in grade school when he got kicked out for fighting in Spokane. He graduated from Rogers High School in Spokane. He always said that he was the only one in his family that went to public school. Everyone else went to Gonzaga. Go Dogs!
Thomas is survived by his wife, Christine (Lewis) Butcher; his sister, Constance Krepps, and nephews Fred Krepps and Chad (Jessica) Krepps; his mother-in-law, Kathleen Chrisinger; brothers-in-law Gerald, Cecil (Rhoda), Corey (Sarah) and Kevin (Velvet) Chrisinger; sister-in-law Carrie (Mike) Stewart, along with niece and nephew Madyline and Michael Bradovitch. Tom has two bonus sons, Dakota and Tallen (Felica) Lewis. He had six grandchildren that he was so excited about sharing his life with, Alex, Emily, Daemien, Draven, Ronald and Xavier.
Tom was preceded in death by both his parents, Howard and Joan (Christman) Butcher; brothers Clark and Jerome Butcher; uncle Ralph Butcher; and brother-in-law James Krepps.
A memorial service will be held at 11 a.m. Friday at All Saints Catholic Church, 1330 14th St., Lewiston. Deacon Davies, of Lewiston's All Saints Catholic Church, will officiate. Lunch will be served in the social hall following the service and interment in the columbarium. Vassar-Rawls Funeral Home is handling the funeral. Please sign the online guestbook at vassar-rawls.com. The service will be live streamed for those who cannot attend at youtu.be/_W-nSNHWEdw.
Service Information
Date & Time

Friday, October 15, 11:00 AM

Location

All Saints Catholic Church
3330 14th Street
Lewiston, ID 83501

Get Directions
Condolences
Zina Beth McEldowney
Christine I'm sorry for your loss i understand what its like to loss a husband what the grief and loss is yours only don't let anyone tell you how or how long to grieve. leaning on your faith is very helpful during this time. Zina
Sunday, October 17, 2021 2:28 PM
Kirk and Terri Williams
We are very sorry for the loss of Tom. The little time we knew him, he seemed to be a great man. He will be missed by many. Especially his grandkids. Please accept our apologies for not being able to make it to the service. I will be watching it live. My thoughts and prayers are with you all
Friday, October 15, 2021 10:41 AM
CONSTANCE KREPPS
Little brother, another part of my heart went with you today, I will miss the Saturday calls, along with your beautiful smile and those Grand Canyon dimples. I Love you and will truly miss you. Until we are united again. Your Big Sister. Connie
Thursday, October 14, 2021 11:34 AM
Offer Condolences